Battle of the Client Galleries: Comparing 11 of The Best Tools for Proofing and Presentation
Online client galleries have been there for some time now, but many photographers either neglect this powerful tool relying on ol' school DVDs and USB drives for image delivery, or simply are not aware of the options that would suit their particular business.
As a beginner, mostly part-time, photographer I was looking for an affordable photo gallery service to give a try. The main problems I wanted such a tool to solve were: a) deliver images quickly after the shoot; b) impress my clients with a personalized website and thus, make them want to refer me; c) make it easy to share the photos.
Having examined a number of fellow photographers' blogs, I concluded that most photographers have the same demands, adding the ability to sell prints and digital downloads online. So, these were the main criteria for me to estimate the value of each service and make the final choice (you can read about it in the end of the post, if you're curious).
I tend to approach every research thoroughly, that's why my comparison includes both "big players" in the client photo gallery market, as well as some less known and new services. Below you can find brief descriptions of the services. Plus, I made up an overall table for you to be able to compare various options at a glance.
Note: Before I go into comparing the photo gallery services, it's important to note that I'm not affiliated with any of the mentioned services, nor with any other services operating in this market. For the purpose of research, I registered a free account or signed up for a free trial with every service depending on what's available. In addition to this, I studied user reviews and comments on a handful of blogs and forums so that my conclusions would not only be based on my own observations and thus would be as much objective as possible. That said, the article remains subjective to certain extent since I'm sharing the results of research I conducted for my own purposes. If you think some of my remarks or gathered data are inaccurate, I'm open to discussion.
With those disclaimers announced, let's start.
Pixieset
For photographers actively using online media in their business, Pixieset was quite a discovery when it appeared back in 2013. For many, the company became a more affordable alternative to PASS with an attractive set of features for online image proofing and delivery, as well as print sales. Among the features that took the photography crowd by storm was the ability to add collections within a particular gallery, which provides for better organization and quick access to certain image set. Photos can be marked as favorites which makes it easy for photographers and their clients to proof pictures for printing and photo books.
One of the biggest benefits Pixieset delivers is a billing system for prints and digital downloads, including lab- and self-fulfillment options, as well as commission-free print sales (there's 15% commission for free accounts, though). Other things photographers report as awesome are private galleries and PIN-protected downloads, no expiration term unless you set it, ability to easily download particular images and entire gallery, integrated Google analytics and downloads tracking, and many more.
Speaking about the downfalls, one thing that seems to bug a lot of professionals is actually the company's name, Pixieset. Some photographers are doubting they would be taken seriously by a client after handing them a link containing PIXIE in it. However, custom domain binding can deal with that.
Pixieset is adding new features at a fast pace, so in case you're looking for an advanced yet convenient photo gallery tool, be sure to give it a spin. There's a free plan available, and if you need more storage, you can upgrade to $8, $24, or $40 per month (billed annually) for 10 GB, 60 GB, or 1 TB respectively.
---
Pros: beautiful gallery design, convenient organization, multiple store settings, commission-free sales, frequent updates
Cons: quirky name, some important marketing features are not available at the moment.
Ideal for: aspiring photographers at the early stage of building their business (absence of certain features may be more significant for an established business).
---
PASS
PASS has been there for a few years (some of the reviews I found are dated 2011) and it seems its fan base is growing just as much as the number of critics. With beautiful Pinterest-style galleries enabling customers to download photos right from the gallery and easily share them on Facebook with a linkback to the photographer, PASS was the first to offer an excellent tool to get more word-of-mouth in social media and remains so for many, many photographers. They call it the "Shoot and Share" principle. However, the cost of $29 per event (gallery) has become a serious hurdle for many photographers, followed by even bigger issue which is their highly criticized print sales system not allowing photographers to set their own prices.
The product has been marketed heavily for wedding photographers, and by far, it's tailored for wedding photographers. That means if you add really lots of photos to your galleries, which is usually the case for wedding albums, $29 may be quite liveable. But you should really do some calculations and compare PASS to other options if you're not creating large-volume galleries.
The app's interface is clean and easy to use, however, I don't understand the company's choice of the software platform for it, which is Adobe Air. There are loading speed issues and you have to go through a pile of dialogs asking you to update Adobe Air before you could update the PASS app itself. A web-based cloud solution would be so much a relief.
If you're an event photographer focused on booking more events rather than print sales and whose marketing is largely based on social media, PASS may work for you quite well.
---
Pros: elegant gallery design, tailored for easy Facebook sharing, video support
Cons: steep pricing, negligible print selling options, gimmicky Adobe Air platform
Ideal for: Shoot-and-share photographers who include the digital files in their session fee
---
Shootproof
Shootproof is another important player in the field of client gallery tools. It's focused on client proofing and prints/downloads purchasing. There are 6 plans to choose from, ranging from 100 photos for free (great way to give it a try) to 100,000 for $50 a month. There are no sales commissions or setup fees, which makes is a good solution for both part-time photographers with low volumes of print sales and professionals for whom print sales are essential.
Among the features that sell lots of photographers on Shootproof are their own Lightroom plugin (ability to manage photos in the event gallery right from Lightroom is really, really handy), their own widget for WordPress-based sites for clients to login and get redirected to their Shootproof gallery, and their print ordering system that includes both direct and self-fulfillment with custom price lists. Yet another feature that sets Shootproof apart from rivals is their Competitor Match program which offers a free credit to Shootproof for any time remaining with a competitive service.
As for the weak points, there are certain gaps in the admin panel usability. For instance, I had to search help area just to figure out how to set a gallery cover. Seriously, a link on the blank cover image would be quite a solution! And the design themes for galleries are not as clean and polished as those offered by Pixieset and PASS. If Shootproof catches up with that, it might gain over a decent share of the Pixieset and PASS crowd.
---
Pros: vast set of image proofing tools, convenient storage-based plan breakdown, commission-free sales, multiple marketing tools
Cons: not so usable interface, not so clean gallery design.
Ideal for: photographers that do high-volume printing with one of Shootproof's vendor labs.
---
SmugMug
It was 2002 when SmugMug entered the market at which their competitors would be Microsoft, Sony, Canon, and Kodak. Years passed but this family-owned company is still in business. That is alone a reason to tie your business with SmugMug since unlike your average modern startup, it can pretty much guarantee it will still be here tomorrow.
While there's no free plan available with SmugMug (there's free 14-day trial, though), each plan includes unlimited storage space and galleries. However, commerce functionality only becomes available in their Portfolio and Business plans, for $20 a month/$150 a year and $35 a month/$300 a year respectively. For full-fledge proofing system with an ability for customers to mark and share their favorite photos, custom price lists for different clients, and promotional tools you need to opt-in for the highest-priced Business plan.
Before 2013 one of the main issues with SmugMug reported by photographers was poor design of its gallery templates. Last year the company had a large overhaul and now you get to choose from a solid number of quite good-looking themes with improved layouts and more prominent call-to-action buttons. The other important downfall that is still pissing off a lot of photographers is the usability of the admin interface. For instance, to get to the event settings you need to click like 5 extra links. But even though setting up your client galleries may be a bit cumbersome, it looks pretty much set-and-forget.
SmugMug is for sure an ultimate solution for hosting and selling your products online, but as a client proofing system alone, it's probably way too expensive.
---
Pros: long time in the market, unlimited storage in every plan, vast selection of image hosting and business tools, large selection of good-looking themes
Cons: cluttered user interface, some important client gallery features are only available in top plan
Ideal for: photographers looking at client gallery system as an add-on to the photo hosting/website platform
---
Zenfolio
Zenfolio is in the same weight category as SmugMug sharing many of the same features with it. What makes it different is a better organized interface and some key client gallery features available under less expensive plans. For instance, you get Client Proofing & Favorites included in the Premium plan which costs $140/yr, and this functionality feels much easier to set up and streamline than the mechanism offered by SmugMug.
A handy widget to share favorite sets with a photographer and/or friends, as well as the ability for photographer to open clients' saved sets in Lightroom via a special plugin are the features that make the dialog with clients easy and enjoyable for both sides. Zenfolio gallery designs are on par with those delivered by SmugMug, but compared to the Pixieset and PASS themes, they feel slightly lagging. More attention to small (which are only small at first sight!) design elements like buttons, icons, and typography would help fix this issue. Just as with SmugMug, using Zenfolio makes more sense if you're looking for a multi-purpose platform to build or move your online presence to.
However, at a price of under $12 a month, using it solely for client proofing and presentation is worth considering too. Selling your prints and digital downloads would cost you addition % (from 6% to 12%), which is probably not the way to go if you're doing a lot of printing or digital sales.
---
Pros: established platform, vast selection of image hosting and business tools, more affordable client gallery features, relatively easy interface
Cons: Additional % commission on sales, self-fulfillment and selling downloads only available in the top-priced plans
Ideal for: seasoned pros that actually need and use all those features
---
PhotoShelter
PhotoShelter is yet another big player on the photography platform market. There are multiple image uploading methods available, including plugins for Lightroom and Aperture. Once you figure out the navigation and admin interface, it's very easy to customize your galleries.
Particularly, I love the ability to edit elements right in the live preview mode. PhotoShelter offers a robust image proofing system with a number of possible ways to present and deliver your photographs to clients, such as private galleries and collections, custom lightboxes with the options to rate and comment photos, FTP, and password-protected links. Their keyword-searchable image archives are also a very neat feature.
When it comes to product sales, add a 8%-10% transaction fee (depending on your account tier) to your subscription fee. However, self-fulfillment option is included free in every plan. A huge benefit is the support of 23 global currencies and PayPal as a payment method. PhotoShelter is definitely powerful software.
The only problem that appears to be critical for many small businesses is pricing. The cheapest option is $9.99/mo or $109.99/yr with just 4Gb of storage space and some really important features not included. All-inclusive Standard and Pro plans would cost you $329.99/yr and $549.99/yr for 60GB and 1000GB respectively. I could find a lot of reviews from professional photographers that completely justify these prices, so if you can afford it, you're likely to get bigger bang for the buck.
---
Pros: sophisticated backend, lots of customization options, easy-to-use interface, beautiful gallery templates
Cons: additional % commission on sales, rather expensive subscription
Ideal for: professional photographers looking for an advanced software for image presentation and delivery.
---
Redcart
Redcart has 5 license plans to choose from, ranging from a $9/mo basic plan to $50/mo Elite plan. There's also a self-hosted solution you can get for a one-time fee of $349. The plans differ by the number of galleries you can create: from 5 in Basic to unlimited in Elite.
The number of features Redcart is enticing photographers with is pretty impressive and what's even better, all of them are included in every available license plan. Commission-free sales, mobile compatibility, drag-and-drop image collections, star ratings, image comparisons, just to name a few. Galleries are also tailored for viewing on large screens which makes them usable for in-person sales. $60 a month may sound expensive comparing to other options named above, but again, it depends on how much you rely on prints. For many photographers this price may look quite affordable, if not a steal.
The galleries are not as elegant and sleek as those delivered by aforementioned services, but signing up for Redcart you're getting a powerful photo gallery and print ordering system.
---
Pros: flat monthly fee, all-inclusive storage-based plans, powerful commerce platform, powerful proofing platform, the ability to pay a one-time fee and host the cart yourself.
Cons: weak gallery styling, rather difficult setup for a non-tech person, a bit cluttered admin wrokflow
Ideal for: photographers looking for self-hosted software to do online proofing and sell prints
---
Instaproofs
Unlike its competitors, Instaproofs doesn't charge you a setup or subscription fee. Instead, there's a single 15% commission on sales with Instaproofs paying you out for your fulfilled photograph orders up to twice a month.
There are two benefits behind this payment model I can see. First, charging only a percentage commission, the company makes profit only if you make profit, meaning you have a whole marketing team interested in increasing your sales as much as possible. Secondly, this solution is especially efficient for part-time photographers like me, who may have variable breaks between the shoots. No shoots, no expenses — easy.
Instaproofs is solely focused on providing e-commerce functionality to photographers, so the photo galleries automatically expire in 9 month (you can extend a gallery for $5 per 3 month) and the presentation factor is really weak. The idea is that you have a versatile storefront to proof photos and fulfill orders, but when it comes to delivering a beautiful photo gallery for your clients to enjoy long after the photo session, you should probably look elsewhere.
---
Pros: powerful storefront for image proofing and selling, no setup or subscription fees
Cons: weak presentation factor, not adjusted for mobile, galleries live for 9 months
Ideal for: part-time photographers relying on print sales
---
StickyAlbums
StickyAlbums is a tool for building branded photo apps your clients can save to their smartphones and view pictures without Internet connection. While this surely is not the way to deliver photos nor is it a proofing system, this type of client galleries could work as a small "thank you" surprise for your clients and surely drum up some referrals. Plus, it's super easy to create a gallery, you can do it in a couple of minutes which is impossible with "heavy artillery" client galleries.
There are 3 plans to choose from: $29/ mo billed monthly, $19/mo billed annually, and $699 billed once. You get unlimited albums, custom branding, password protected albums, SMS and social sharing included in every plan. Difference is in album hosting period and the number of brands you can create under one account. That may look rather expensive for an app that does one plain thing, but as the Greek paraphrase says "The fox knows many things, but the hedgehog knows one big thing."
In other words, if it works for your particular business, it's worth paying as much as you would pay for a Swiss-knife kind of app. With a 14-day free trial and a 30-day money back guarantee you can give StickyAlbums a spin.
---
Pros: dumb easy to set up, simple yet working idea
Cons: rather expensive
Ideal for: photographers that prefer in-person proofing and sales yet want to have their share of social media word-of-mouth
---
Plover
Plover is another take on "a new standard in photo proofing". This newcomer is pretty much resembling Pixieset. By the way, it looks like weird titles is a growing trend in this niche (no offence, Plover and Pixieset, you're building cool products, but these words in the URLs are way too hipster).
Currently available features are a clean gallery template, commission-free print sales via an automated ordering system, image backup, and custom domain name. Self-fulfillment and digital downloads are promised to be coming soon. I really like the clean interface and gallery style, but the current functionality is way too limited and does not justify subscription plans Plover is currently offering. Those are $8/mo billed yearly for 10GB of storage, $32/mo billed yearly for 50GB of storage, and $56/mo billed annually for 500 GB of storage. That's more expensive than advanced Pixieset and there's no Free plan available.
Plover has to be building up muscle fast and outrun its major competitors with something unique. Otherwise, there won't be a single reason for photographers to move their businesses to Plover.
---
Pros: beautiful gallery design, easy-to-use interface, commission-free print sales
Cons: too much money for too limited functionality
Ideal for: the likers of Pixieset that are constantly on the lookout for new tools
---
Reserve Player – Defrozo
I didn't include Defrozo in the comparison table since it's in beta mode right now, but this service is worth mentioning here for a number of reasons.
First, Defrozo has been released to public less than two months ago, but client photo galleries is the third module that has been released on the Defrozo platform during this period. With this pace, Defrozo is likely to make some noise in this niche quite soon.
Secondly, the company promises updates and new features every two weeks, so client galleries are likely to accumulate functionality along with the other platform modules. Though I'm an early user, I can prove that the guys at Defrozo have been keeping their promises so far.
Last but not least, the entire platform is completely free right now while developers are engaging signups and feedback from photographers.Even though paid solutions are scheduled for release later this year, the company promises free plan to retain rich enough.
In terms of customization, Defrozo photo galleries could not be used as advanced proofing/print selling solution. But if you're looking for a way to surprise your clients with a beautiful, personalized photo gallery adjusted for viewing on desktop, tablets, and mobile devices, Defrozo is what you might like to check out.
Besides, they are tooting future bonuses for early members, so signing up with Defrozo looks pretty much a win-win game.
---
Pros: beautiful gallery design, easy-to-use interface, frequent updates, integrated with other Defrozo tools
Cons: limited functionality to date, minor bugs
Ideal for: aspiring photographers willing to stake on a potentially better alternative to industry giants
---
Client Gallery Service Comparison Chart
Click here for full res version.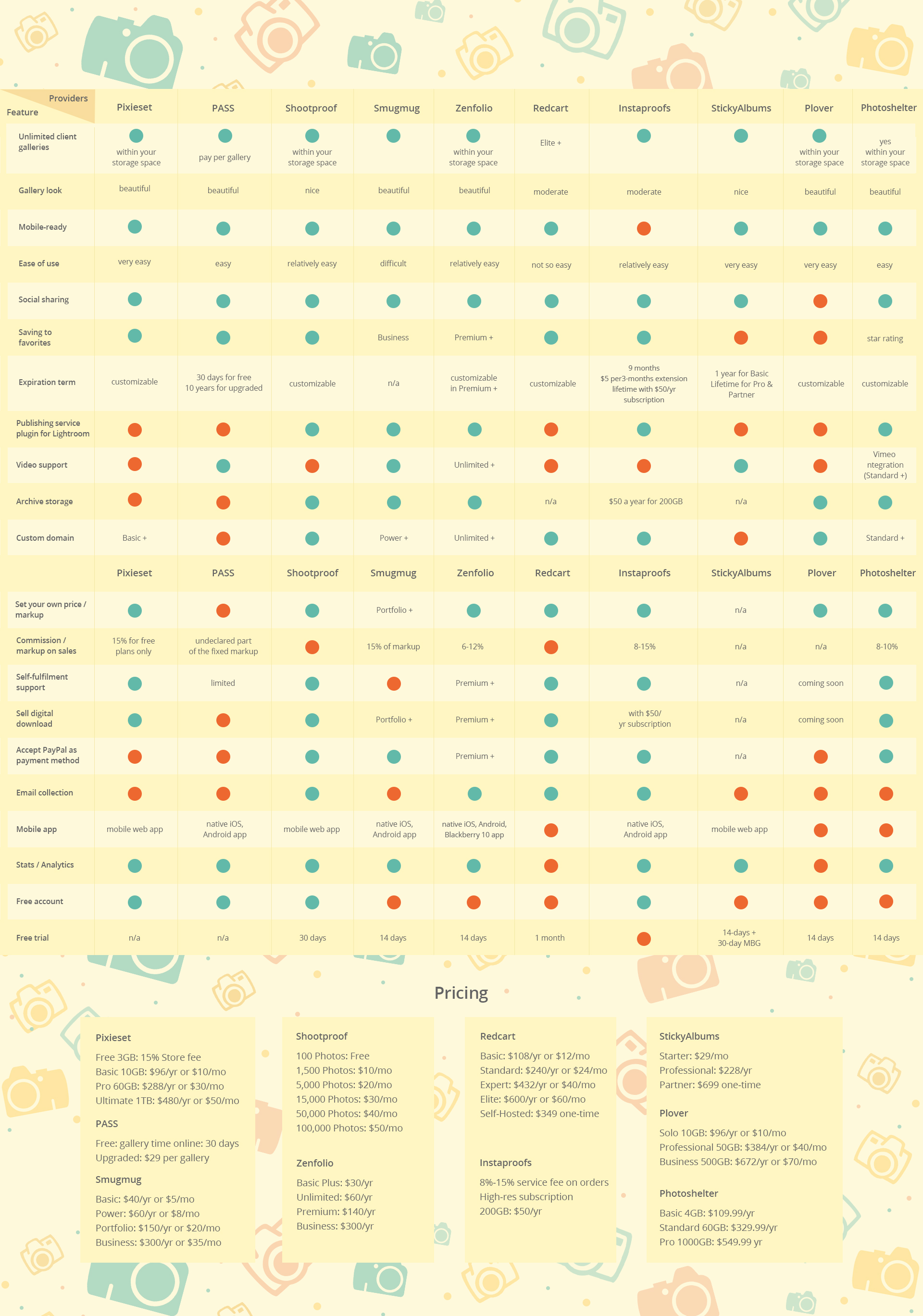 Conclusion
There is no ultimate winner.
While the market has yet to see a service that would cover all ins and outs of photography business, the winner for your particular business may be well in this list. Here's my personal verdict, but you should really pick a few services that look most fitting for your business and give each a spin.
Best choice for referral booking (and my personal choice) – Pixieset
Best choice for proofing & print sales – Shootproof
Best universal choice – Zenfolio
Choice to watch over – Defrozo
Are you an aspiring semi-pro photographer whose main priority is to build a client base? Or are you an experienced professional looking for the most cost-effective way to sell prints and downloads? The way you answer this question, or in other words, define your first and foremost business goals, will help you decide which photo gallery builder is for you.
Ultimately, none of these tools delivers a complete, flawless workflow. But nevertheless, effective online marketing with online photo galleries and downloads is finally a reality. And good news is that options are getting better all the time.
---
Update: This comparison has been updated to include PhotoShelter.
---
About the author: Julia May is a beginner photographer striving to blend her marketing experience and creativity to succeed in the photographic field. She's been into Internet Marketing since 2009 and her works can be seen on Smashing Magazine, Webdesignersepot, and Digital Photography School. Julia is also interviewing photographers from all over the world on her blog Photointerview.