Picflow: Professional Client Gallery And Proofing Workflow Simplified
The recently launched client gallery and photo proofing service, Picflow, was developed with the purpose of making it easier for photographers to communicate and deliver to their clients. While the service may look rather straightforward and simplistic, there are a lot of useful and powerful advanced tools hiding behind the scenes that are sure to improve the workflow for any working photographer.

Full disclosure: This article was sponsored by Picflow and written by PetaPixel.
Picflow is a new program that allows you to deliver proofs to your client(s) and colleagues that allows them to make selections, comment on, annotate for retouching/edits, rate/flag, and even download individual or groups of images. While services of this nature have become somewhat commonplace today, Picflow's simple design and powerful back-end offer a very fast and easy-to-use delivery system compared to many others on the market. What's even more impressive, is this system allows users to upload full raw files which can be easily viewed as a normal gallery for clients, and the files can be downloaded directly by members of your team like retouchers and other editors.
With this new service, once images have been sorted and uploaded to their respective folders and galleries, clients can take control of the photoshoot by letting you know exactly what images they like and want worked on, even including annotated notes for detail-specific items per image to focus on. This effectively empowers your client(s) and takes a lot of the logistical work off of the photographer/retoucher's shoulders.
The Gallery Designer
Out of the box, the system is surprisingly easy to navigate for both photographer and the client (viewer). The galleries are easy to upload and create with impressive unthrottled upload speeds (I actually discovered that the upload was limited to just my own (not good) internet connection speeds with several 1-3 gigabyte sets of images that actually topped out at my ISP's upload speed cap).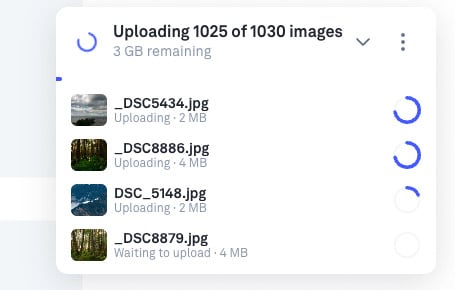 After creating a few galleries, I found that the system provides another way for users to stay organized with the addition of Folders. Users can create folders for each client (or any organizational structure you choose) and then drag and drop existing galleries in them as though they were folders on a desktop. This folder structure is visible just to you and your teammates allowing the teams to organize however works best for them.
Once you've created a gallery you can then choose how to share it and what features you want to enable for your clients. This includes public/private/unlisted profile settings, passwords, the ability to track and identify visitors, enabling/disabling the ability to view the metadata and version history of the files, as well as the ability to download images, color label, comment, flag, annotate, approve/disapprove, and favorite images for the photographer to see.
Viewers can even (if enabled) choose to view the gallery in an advanced mode which allows them to filter the images they see based on the same things the photographer/admins can. Giving the client greater power to filter and choose the images they want worked on.
Review, Annotation, and Approval Tools
Having the ability to communicate with both the client and collaborators on the project is an extremely valuable addition to a tool like this. As I mentioned above, once the gallery has been created, the photographer can share the link to the galleries with their clients so the real work can begin. In addition to sending a gallery that viewers can flag, comment, and annotate, users can also invite team members (like a creative director or retoucher) to the workspace (currently in beta) so they can view and manage comments from the clients directly, as well as flagging, rating, and annotating/commenting on images themselves.
These teammates will get the same notifications as the owner, letting them know when viewers have navigated through the folders and galleries sent to them, also giving them the ability to work on images and create new folders and versions of the images in the galleries. This gives the team members the ability to manage this process themselves which can free up the photographer from having to deal with a boatload of administrative work.
While most other client delivery sites only allow for a favorite or "heart" to track image selections from clients, Picflow gives users and reviewers much greater control for sharing, reviewing, commenting, and more on each project. Users can set a gallery to only have the favorite option (useful for large event coverage like weddings and trade shows), or you can enable every single feature available as well, making it much more user-friendly and workflow friendly depending on the situation.
Users on the back end can filter and see any image that has been rated, flagged, or commented on, and even filter by camera and lens combinations if needed, to find the images that need to be worked on. Clients and viewers of the gallery can see a single or multiple options for each image ranging from commenting and favorites, to color flags, approval/rejection buttons, as well as annotations.
Email notifications are sent out periodically after viewers have made comments and changes on the gallery side, and from the back end, admins and teammates can see a list of activities presented like a toolbar like some familiar social media sites for easy navigation.
Even with so many more features and useful tools than several competitors, the system still feels uncluttered and easy to navigate, making it a very useful tool when working on creative projects with multiple people. Users, depending on the project type, can change what options the viewers are presented with to help make things as detailed or as simple as the image set demands.
Plans and Pricing
Picflow offers users the option of two paid plans (Plus for $8 per month (and 100GB of storage) or Pro for $16 per month (and 1TB of storage)) but also provides users with a free plan that has a 2 GB maximum storage and some other limited features, basically just enough to make you realize that the paid plans are actually worth it. Either option users choose, the company says there is no limit on the number of image uploads (as long as you stay within the capacity cap) and ads are never displayed in galleries for viewers.
Storage options can be added and expanded should you find yourself in a situation that requires it, and each of the paid plans offers a two-week free trial to be sure it is the right one for you. More information can be found on the Picflow website here.
---
Full disclosure: This article was sponsored by Picflow and written by PetaPixel.