15 Free Organizational Tools for Photographers
These days, photographers are dramatically strapped for time. We live in a world where "busy" is the most common answer for "how are you doing?" Endless client talks, long emails, phone calls, social media messages and trips steal your precious time with no intention of giving it back.
So, how can you become more effective in the time you do have and maybe earn yourself some time for shooting? And I'm not talking about multitasking, everyone already knows that's not working anyway!
In this post I put together 15 time-saving tools for photographers that'll help save you more time for shooting. Tools for creating quick to-do lists, bookmarking links to read later, sharing various files with others, automating certain quick tasks, creating personal website in minutes, and much more.
1. Acuity Scheduling
Acuity Scheduling is a crazy-good online tool that allows your visitors to schedule appointments on your online calendar. Adding a calendar to your website eliminates tons of emails from your clients trying to schedule an appointment. Imagine how many hours per day/week/month you can save using this tool?
Just set up your account and input the times you will be available to meet with your clients. The tool also takes care of the follow ups for you and enables users to send payments via PayPal, Authorize.net and Stripe.
2. Defrozo
Defrozo is a brand new online platform that seeks to provide a complete set of tools for photographers to organize their workflow and market their business. Currently, the project is open as public beta with two features available from the get go: a portfolio builder and a media library.
Features in the 'coming soon' column include online proofing, task management & scheduling tools, online store, CRM system, and client websites. Defrozo shows real potential, and considering they also promise specials for the early adopters, it's definitely worth signing up.
3. IFTTT
IFTTT (If This Then That) is a great tool that lets you automate many everyday tasks and save time for yourself. The service connect two networks and automates many of the processes you do every day of your online life. For example, if you want to shoot the rain, just connect the weather forecast app with your phone; IFTTT will notify you via message when your rain is on its way.
4. Chime
Chime is a useful tool for the Chrome browser that aggregates notifications from various social networks in one place. It'll add minutes to your day while keeping you up on all the messages and tweets you've been receiving.
5. Pixiest
Pixiest is a fast and secure photography delivery tool that allows your clients to download photos directly from a gallery you create. It even tracks who downloaded the photos, when they downloaded them, and keeps track of clients' favorites. Plus, you can use Pixiest to sell photos as well.
6. WorkFlowy
WorkFlowy is remarkable organization tool that covers tasks, notes, reference lists, brainstorming ideas, creating outlines for content and planning projects. You can use it to create various to-do lists, plan events, take quick notes, collaborate huge team projects, and more.
7. Buffer
Buffer was creating to change the way you use social media by letting you automate tasks and schedule posts for Twitter, Facebook, and LinkedIn… and it's completely free for personal use! You can even see the analytics of your posts (how many people clicked or retweeted them).
8. Google Docs
Maybe this one is a little obvious, but there are probably still a few people out there who don't know about Google Docs yet.
The feature I like best about Google Docs is that every change you make is automatically saved in Google Drive, so there is no need to push Save button over and over again. Besides, you can access your documents from any other computer, share the documents with various clients and add comments to the changes you make, all by simply logging in with your Google ID.
9. Evernote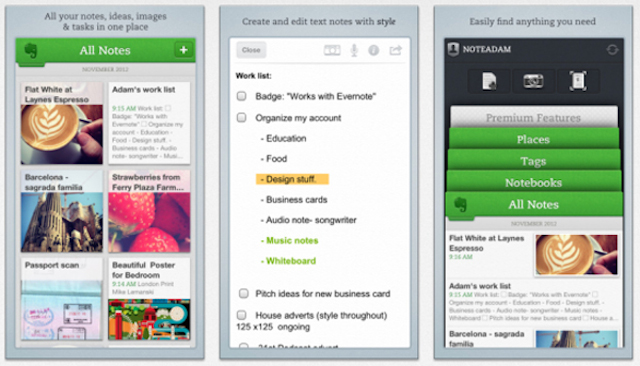 Evernote is a free multi-purpose note-taking tool that helps you to remember tasks across the devices you use. Featuring a text editor, image uploader, and voice recording tool, you can use all these features together or separately to add content to your account.
It's one of the easiest tools for note taking. Just fire up the app and push the plus button to create a new note.
10. Mynd Calendar
Mynd is an intuitive calendar app that takes a traditional calendar and adds a lot of useful features that allow you to manage all of your events more carefully.
The well-designed home screen reflects all your events for the day, displays weather conditions in your area, distance to be travelled between the events, and how you're spending your time. Just add event and location details to the app, and when it's time go somewhere, Mynd will give you directions using your favorite navigation app.
It's a great way to keep organized and on-point on those days when you're shooting at several locations in a single day.
11. Boomerang for Gmail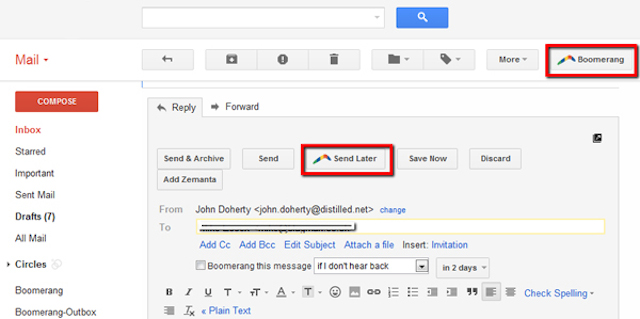 Boomerang allows you to schedule emails you receive and postpone the emails you send. With this service you can schedule emails to send for later and postpone more important emails that you'd rather be sent at a specific time. You can also easily follow up on emails from the users who tend not to answer for a long time.
The one downside is that you can only use this tool with Gmail using either Google Chrome or Mozilla Firefox.
12. MailChimp
Mailchimp is a leading email marketing service that makes distributing a newsletter extremely simple. It has all the features to create an effective email marketing campaign.
You can choose the template of the newsletter email, fully customize it, set it up and send it out. Mailchimp will even show you analytics regarding you campaign, such as the number of subscribers, the number of opens and clicks, and other useful customer interaction data.
13. Dropbox
Dropbox, while it does have its drawbacks, is still one of the most popular cloud storage options out there — and you can get 2GB of free space to share the files you want. It's a great way to access certain files from anywhere. Dropbox is available for Apple, Android, and Blackberry users.
And if 'free' isn't at the top of your must-have list, Dropbox Pro just added a bunch of features and dropped their price! You can get 1TB of space for just $10/month.
14. PhotoBucket
Photobucket is online image hosting that offers you lots of storage space for your photos. Quickly and easily upload photos into Photobucket albums and then use the provided permalinks to share those albums with clients. Besides, it allows you to follow other users and draw inspiration from them.
15. Pocket
Pocket is a free "read later" service. It lets you to save stuff from the Web — from articles to videos — to view when you have some free time. Moreover, each web page you save is made available whether or not you have an Internet connection, so it's a great tool for when you're traveling.
Share Your Tools
Hopefully you found this list helpful, and begin using some of these tools to win small victories against the clock so you can get out there and shoot. Feel free to share any additional time-saving tools you personally use (or just say hi) in the comments below.
---
About the author: Nancy Young is a passionate writer and blogger. She writes tons of inspirational articles on photography and web design, despite the fact that she is an economist by education. She is a part of PhotoDoto Team. Nancy believes in magic of written words to inspire and motivate.
---
Image credits: It's just a matter of time by Nomadic Lass