Picdeck Web App Brings TweetDeck-Like Functionality to Instagram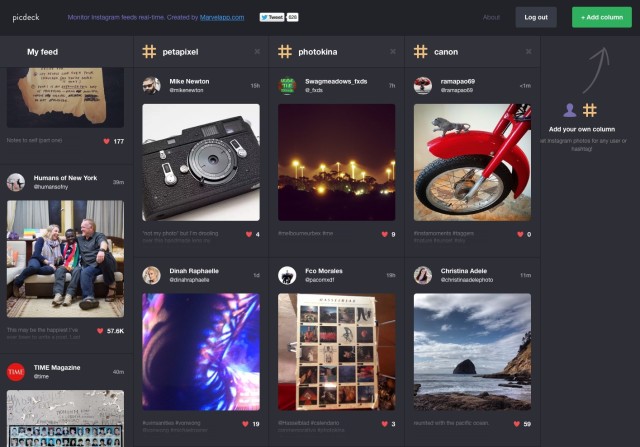 Instagram is a wonderful social network with simplicity built right into its infrastructure. But while simplicity may work for the masses, there are power users out there who would like to make the most of the photo-sharing network using third party options — options that just got a bit more tempting thanks to the introduction of Picdeck.
Picdeck, a new web app for Instagram users, hopes to bring an interface similar to popular Twitter app TweetDeck to Instagram, letting users make the most of their square-cropped image streams.
Like TweetDeck, Picdeck connects to your Instagram account through a simple login process. Once logged in, you'll see a column of your standard Instagram feed, and can create additional columns based on specific users and even hashtags, so that you can browse Instagram in the most efficient, customized way possible.
There are limitations though. As of now, you can't create new posts or login with multiple accounts; and if you to click on an image within the Picdeck stream, it'll directly you to the Instagram website where that image is hosted rather than pulling it up within this app.
This effectively makes Picdeck more of a visually altered viewer rather than a full-fledged Instagram client, but over time there may be more features added. In fact, Picdeck cofounder Murat Mutlu tells The Verge that his team is already hard at work looking to add location-based columns and "other features."
To check out Picdeck for yourself, head on over to the website and login.
(via Mashable)