CAMS Sling Strap and Plates Make Shooting Portraits Easier and More Comfortable than Ever
Most sling-style straps today have a problem: the mounting point. They all use a rather bulky connector or plate screwed into your camera's tripod mount, so if you're using a pro body or a battery grip on your camera, these straps make it uncomfortable, if not impossible, to take advantage of shooting portrait style.
To solve that problem, a designer and an engineer have teamed up to create CAMS, a pro sling strap, camera plate and lens plate that are built with the aforementioned problem in mind.
With a combined 20 years of engineering and industrial design experience, the CAMS team certainly knows how to get the job done. And now they're looking to Kickstarter to get their project out of the prototype phase and into production.
Their endeavors are three-fold, consisting of the strap, a camera mounting plate and a lens mounting plate. Naturally, the strap works for both of the mounting plates — which plate you want to use comes down to personal preference and need.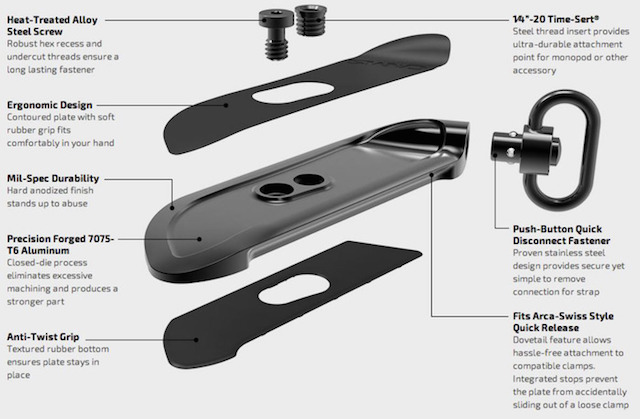 The camera plate features a unique low-profile design, forged out of an aluminum alloy twice as strong as standard aluminum, and uses a special-designed push-button fastener that is designed to securely hold (D)SLRs of any size with a convenient means to quickly disconnect them when needed.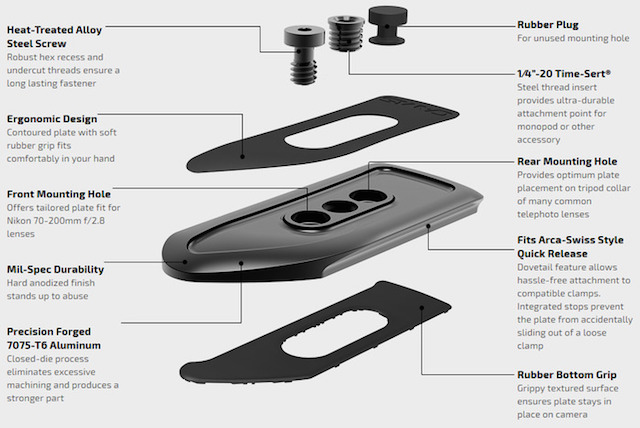 The lens plate is built from the same forged aluminum process and also features their proprietary quick disconnect system. The difference here is that this plate is meant to go on the tripod mount of larger, telephoto lenses, such as the 70–200mm.
Due to the large nature of these lenses, a lens-mounted plate offers a much more convenient center of gravity, butting less stress on your shoulder from the strap.
Both plates are designed to work with Arca Swiss style screw and lever tripods. They also allow you to be use others through their integrated 1/4" thread, the standard for most tripods and monopods. In addition to the mounting capabilities, both plates include a rubber grip on both sides to ensure comfort and a secure fit to your camera body without any damage.
The strap itself is designed in the same light as the plates, with ergonomics and convenience in mind. The sling features a curved neoprene design, with a grippy rubber underside that ensures it won't be sliding around your shoulder. For adjustments, a special-designed velcro strap manager keeps the length of the strap in order, regardless of height or size.
Here's an intro video to the whole system:
To find out more, head on over to CAMS Kickstarter campaign and check out the strap for yourself. You can secure yourself all three pieces — the camera plate, strap and fastener — for $85, with other pledges offering either more or fewer options, depending on your budget.