August: A Fulfilling Photo Sharing Platform that Makes Discovering Talent as Fun as Being Discovered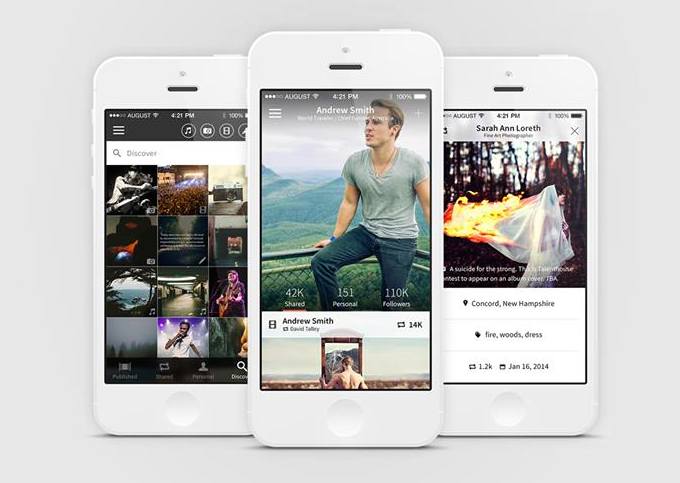 Photo sharing and portfolio building sites, if you'll allow us a cliché, are a dime a dozen. Once you strip away the marketing speak they act in much the same way, with the differences are few and great work is often buried under an avalanche of work that's just 'okay.'
It takes a lot, in other words, to really break the mold — which is what makes the August platform/app such a breath of fresh photo sharing air. Part respectable art gallery, part photo sharing and discovery platform, it offers a unique and incredibly fulfilling experience for both creators and consumers.
The first thing that sets August apart is its exclusivity — kind of like Facebook when it first started. But where Facebook only allowed people with a harvard.edu address in, August only allows the most talented artists in.
Getting onto August requires either an invite from somebody already 'deemed worthy' or, if you don't have those 'connections' that people keep saying are so important in order to get just about anything done in the world today, you can submit your portfolio for review.
The point of this exclusivity isn't to make it feel like a country club where only certain people are let in, but to allow August to say that they have only "the world's most talented artists" without a lick of hesitation.
August isn't afraid to set the bar high, and in so doing separate the creators from the consumers. Not that creators can't be consumers and use August as such, it's just that it takes real skill to make the grade. Joining August will put your work on the same level as some pretty fantastic artists:
Once they've made that distinction, which already sets them apart from your 500px and your Flickr and your portfolio building sites, August then sets out to make the experience worthwhile for people on both sides of that bar. Again, in this respect, they earn… well… our respect.
On the artist side, photographers get all of the benefits of the curated, uncompromising art gallery and the personal touch, customization and shareability of the photo sharing site, all wrapped into a single package.
Their work gets "direct and constant exposure […] to a global audience of consumers focused solely and purely on discovering it" through customized channels. Plus, they can connect with their most influential fans directly, and it only takes a few 'tastemaker' discovering and sharing their work to trigger a snowball effect.
On the consumer side, discovery is the key. Since it's typically more fun to be discovered than to be the one doing the discovering, August did their utmost to make discovery a personal and personally fulfilling thing.
"We have built the experience to focus first and foremost on sharing the media you love," August co-founder Sean Wing told us. "And doing so in a way that feels like a personal recommendation that is associated with you and your identity as a tastemaker amongst your friends and followers."
Artists build "identities" that are based on the kind of work they upload; consumers build "identities" based on their artistic taste and capacity to discover and share great work. In that way, consumers can build a following of their own, people who respect them for that "identity as a tastemaker" Wing mentions above.
The challenge for all photo sharing websites, and in this case August is no exception, is building a proper community. So far, the numbers look promising. Big names in the world of photography have already begun filling August's ranks with the kind of world-class work it promises to the other side of the coin. What's left to be seen is how large and, more importantly, how engaged the consumer side actually becomes.
If the site lives up to its potential, it will offer an unmatched experience to both artists and consumers, redefining how media is distributed and discovered. Let's hope that's the case.
If you'd like to learn more or request an invite to become part of August's community — be it as an artist or a consumer — head over to the August website by clicking here. And if you'd like to keep up with them as they add more artists and continue to develop this platform, be sure to give them a follow on Facebook.
---
Image credits: Photographs courtesy of August