TikTok Takes on Threads With Support For Text Posts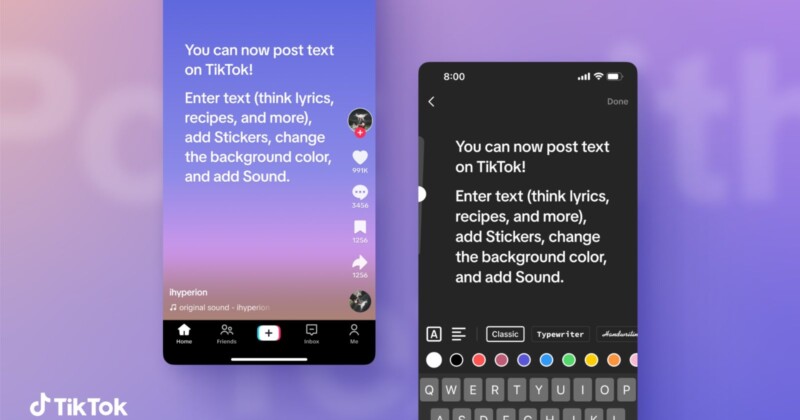 TikTok has announced that it will be rolling out a feature that will allow users to share text posts — just 19 days after Meta launched its new text-based platform Threads.
In a news release published today, TikTok said it would be adding support for text posts to allow creators to share written content on the video-sharing app.
"Today we're thrilled to announce the expansion of text posts on TikTok, a new format for creating text-based content that broadens options for creators to share their ideas and express their creativity," the company writes.
"Text is the latest addition to options for content creation, allowing creators to share their stories, poems, lyrics, and other written content on TikTok — giving creators another way to express themselves and making it even easier to create."
When TikTok users open the app's "Camera" feature, they will now be able to select from three different options: photo, video, and text.
When they choose the text option, they will be taken to the text creation page, where they can type out the content of their post.
TikTok users will also be able to enhance their text posts with several features. They can customize their written content by adding sounds, tagging a location, enabling comments, and allowing Duets.
In the news release, TikTok says that text posts will be "just as interactive and dynamic as any video or photo post."
Content creators will also be able to add stickers to their text posts, along with tags and hashtags. There is also the option to choose from a variety of background colors.
Similar to video or photo posts on the app, TikTok users will be able to save their drafts and store them with other unpublished posts for later editing or discard them entirely.
TikTok Takes on Threads
Last year, TikTok added a photo-sharing mode in an apparent move to compete with Instagram. Now, TikTok appears to be directly taking on Meta's Twitter-killer Threads with the announcement of this new text-based feature.
Threads hit 100 million users barely a week after its launch on July 5 — making the Twitter rival app easily the fastest growing app ever.
However, since then, engagement on Threads has dropped off and Meta's app has reportedly losing half of its active users.
Social media users may now be searching for a new platform to post written content and TikTok could be a viable alternative.
---
Image credits: Header photo via TikTok.