Photojournalist Attacked While Covering Riots and Looting in Missouri
Post-Dispatch photojournalist David Carson has covered a number of intense situations, including the wars in both Afghanistan and Iraq. But it was just this past weekend, in the 21,000-resident town of Ferguson, Missouri that he faced one of his scariest moments yet.
Carson was covering protests in the town sparked by the death of a young teen named Michael Brown. This past Saturday, Officers opened fire on the 18-year-old, killing him in the streets of Ferguson, and the circumstances surrounding Brown's death are hotly debated.
Saturday night in Ferguson, however, was relatively peaceful. It wasn't until he returned on Sunday, after finding out through social media that police had fired tear gas to disperse the crowds, that he found himself in danger.
After capturing a few scary pictures of armed looters from inside of a vandalized convenience store and sending off his first round of shots to the paper, he somehow found himself stuck between protestors and police.
That's when he heard a protestor shout "He's taking pictures […] kick his a**." He ran, but within moments he was on the ground being kicked.
Camera lens shattered but thankfully wearing protective gear, he defended himself as best he could, using his camera as a weapon, and after a few more painful blows, a local pastor Carson had been speaking with earlier helped him to chase the assailants off.
Incredibly, even after taking blows to the head, thighs and butt, Carson continued shooting for another hour, eventually capturing this photo of the aforementioned convenience store, set ablaze by protestors.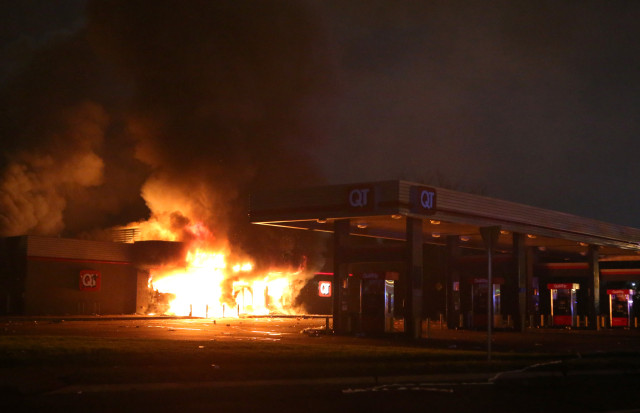 The entire story is both scary and awe-inspiring. Carson's bravery in rushing to a scene he knew was quickly devolving, not to mention the guts it took to go into a store that was actively being looted, is a testament to the kind of attitude and dedication professional photojournalists have.
We tried to hit the high (or low) points of this scary incident above, but be sure to check out the full story, complete with detailed descriptions and a run-down of the dialog Carson had with an armed looter only a few feet away, by following the link below to the Post-Dispatch.
Attacked on the job: A Post-Dispatch photographer's tale [Post-Dispatch]
---
Image credits: Photographs by David Carson/Post-Dispatch, used with express permission from Mr. Carson