Liteblades are a Unique New Light-Painting Contraption for Long Exposure Lovers
Light-painting started out as a very DIY genre of photography. Using flashlights, steel wool, sparks, LEDs, rope lights and many amalgamations of all of the above, photographers have created some interesting contraptions to spice up their work.
And now, well-known Montreal-base light painter Patrick Rochon (who we've featured a number of times) has set out to create a contraption of his very own.
Wanting to stand out from the crowd of other light painters out there, he decided to start work on a device that would allow him to better sculpt frozen forms of light in the darkness.
With the help of Aurora Crowley, a fellow light-painter, Rochon started experimenting with different materials and designs and, after a number of iterations, he and friend Sylvain Lavoie ended up with the first generation of what they would soon dub Liteblades.
Made from a piece of acrylic mounted onto a fastening device, Liteblades are essentially custom-built refractors that mount onto the small, LED flashlights that almost every light-painter has in their arsenal.
"The Liteblade is like having a light sword or an energy dagger in your hands," Rochon explains. "I know you're all thinking of the Jedi, actually I do see a connection, it's quite warrior like."
And it's hard to argue with him. These things look like the logical conclusion to a joke that starts with "a Spartan, a Jedi and a light painting photographer walked into a bar…"
The device has been in development for a long time, but after five generations of Liteblades, Rochon has finally decided to take his creations public. He felt as though keeping the secret behind his work and style under wraps was hindering his progress as an artist, and was counterintuitive to the light-painting world as a whole.
Currently, Rochon has seven designated shapes up for sale: the GODSPEED, WINGMAN, PHOENIX, SPACETIME, BLACKDIAMOND, MONOLITH and FIREFLY. Each give off their own unique effects, providing either a more smooth or more defined characteristics when sculpting out patterns.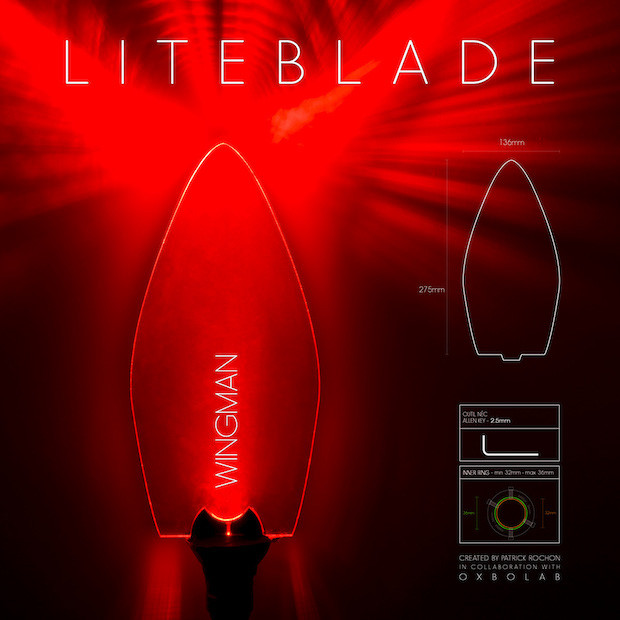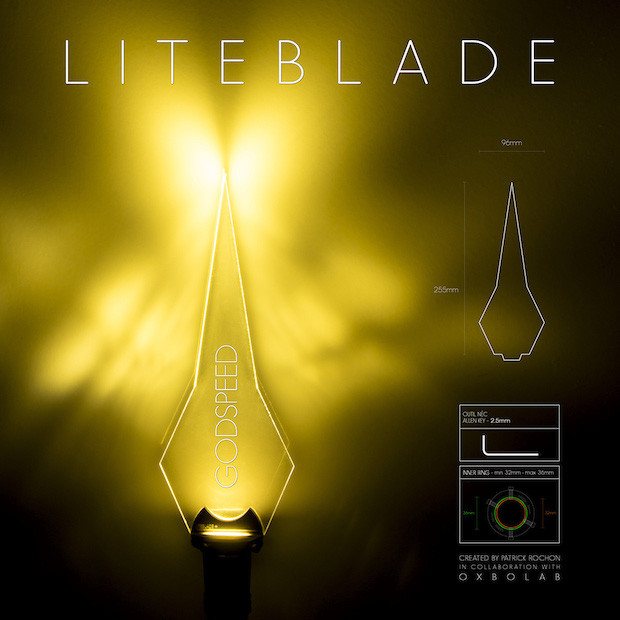 If you'd like to pick up one of the seven models shown off in the images above for yourself, you can head on over to The Light Painting Shop and toss your desired style in the cart. But be warned, they don't exactly come cheap.
At approximately $100 a pop, these well-built contraptions are going to deliver a rather sharp hit to your wallet in the spirit of the saying, 'you get what you pay for'.
But, truth be told, as much as Rochon would like to see orders pile up he's well aware and even okay with the idea that other light-painters are going to draw inspiration from the idea and replicate their own versions of these, rather than buying them.
Not shy to share close-ups and dimensions, Rochon says that the ones available for purchase are for those who don't have the time and/or resources to create their own.
Rochon was also kind enough to share a few tips and tricks on using the Liteblades with us — tips that not only help those who own or are looking to create these devices, but also give context to how they work, how best to utilize them and how to make the most of them:
The end of the Klarus light and the base of the Liteblade is left open on purpose. It creates hi-lights splashes when you move it towards the lens to make beautiful effects.You can close it partially of fully with black tape depending on the result you want.
Mixing different colour gels works great with the blades. I sometimes mix three to twelve different colours.Pre cut some round shape colour gel filters to put under the silver bezel, it makes changing colours quick and easy.
Sometimes I use white vinyl transfer tape on the blade to get a milky trail effect. (The same type of sticky paper that protects the blades when you first receive them.)
Dust and scratches on the Liteblades make for great effects, they create textures. [The Liteblades] only get better with time and usage. If ever your blade is too scratched and you want to change the effect, you can sand it with a fine sanding paper and get a permanent milky trail effect.
Below is a collection of new images, fresh from Rochon's studio, that show the kinds of work you can create with the the latest generation of Liteblades:
Again, if you'd like to get your hands on one of these without the elbow grease, you can do so over on The Light Painting Shop site. And if you'd rather make your own, you can click that same link to see what you'll be needing to put on your hardware store shopping list.
---
Image credits: Photographs kindly provided by Patrick Rochon.