A Look Into The Still Photography Career of Motion Picture Icon Stanley Kubrick
Stanley Kubrick's legacy will forever be sealed in images. Mostly known for his motion picture work, it wasn't until after his time as a still photographer that he took on the world of movies. Kubrick began his career as a photographer, at 16-years-old, after a single image seemingly catapulted his way to success.

To document and share the time before his motion picture days, the Bank Austria Kunstforum has put together an exhibition and accompanying mini-documentary in honor of the still photography that started the career of the film industry icon. Titled Eyes Wide Open, the mini-documentary takes a behind the scenes look at a number of still images from Kubrick's past, all of which are featured in the accompanying exhibition.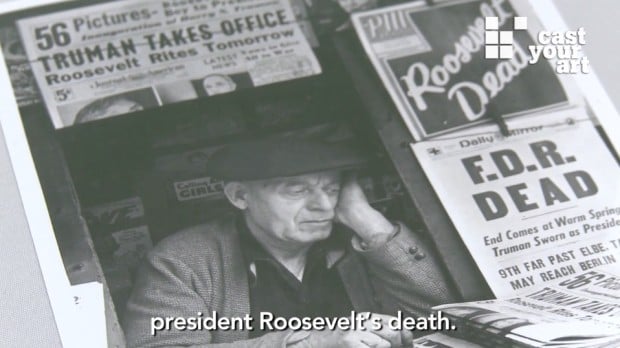 The video starts off talking about a particular image that a 16-year-old Kubrick captured. Depicting a distraught-looking newspaper salesman, the photographed captured the emotion of the man who was selling papers printed with the news announcing the death of president Roosevelt. Taken while on the way to school, every detail in the photograph shows just how director-minded Kubrick was, with him rehearsing, composing and staging the scene meticulously.
Kubrick took it upon himself to send the photograph to Look Magazine, one of the highest circulating publications at the time, where it was bought and published for $25 back in 1945 (roughly $330 in today's money). It was the purchase and publishing of this image that kickstarted the career of Kubrick. By the time he would leave Look Magazine, he had over 27,000 photographs under his belt over the course of over 300 completed assignments.
The documentary continues on, covering the remainder of his still photography career, showing how his approach to still photography not only changed the public perception of what a photographer was, but also naturally lead him into his motion picture career. Capturing the most cinematic of images in his very meticulous storytelling approach, the short documentary gives some unique insight into the mind and eyes of a man whose life accomplishments will forever be sealed in his work behind the camera.
The video comes in at just shy of ten minutes and offers plenty of small anecdotes and insights from the words of those interviewed about Kubrick, as well as words quoted from Kubrick, himself. Whether for information or inspiration, it's well worth a watch. Below are a collection of still photographs captured by Kubrick throughout his career at Look Magazine thanks to Look donating all of their negatives to the Library of Congress upon the discontinuation of their publication.
(via ISO 1200)