Underwater Fantasy Shoot in Bali: 7 Divers, 2 Models and 1 Underwater Shipwreck
No photoshoot goes off without a hitch. But with the correct amount of planning in the way of a vision, schedule, proper team and backup equipment, the risk that you'll run into a big hitch is dramatically reduced.
One photographer who seems to have mastered putting all of those components together seamlessly is Benjamin Von Wong, but it took all of his skill and more to make sure that his most recent crazy adventure came together seamlessly.
If you're familiar with Von Wong's work, you know that he often creates photographs involving fairly large productions, and this one was no exception: The entire shoot consisted of 2 models, 7 divers, and an underwater shipwreck. And if you know anything about diving, getting that many licensed people underwater with proper equipment is anything but simple. And that's not even including the models and permission to use the shipwreck.
Using a Nikon D90, a Nikon 12–24mm f/4, Aquatica underwater housing, and none other than mother nature for light, Von Wong's gear was actually the simplest piece of this puzzle.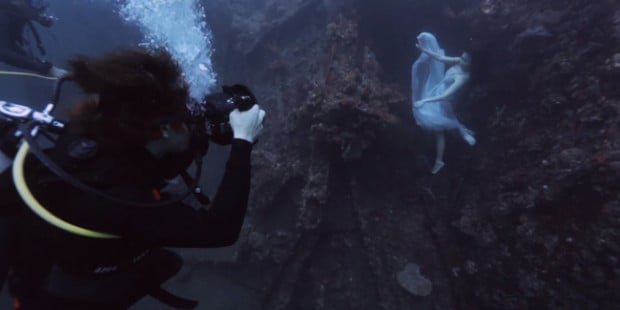 Despite all of Von Wong's planning and almost everything coming together perfectly, there were some challenges shooting underwater he specifically shares over on his blog. Most of them have to do with the above-mentioned issue of getting that many people underwater:
Normal models wouldn't work unless they had extensive dive training and even then, they wouldn't have the ability to hold their breaths for very long, especially at depth, so Free Divers were going to be required.
Normal clothes couldn't be rented since the sea water would wreck them, so they had to find a designer willing to part with the clothing they were lending to Von Wong's team.
Normal assistants wouldn't work, specially trained safety divers were going to be necessary to ensure a smooth photoshoot.
Scouting would be complicated — local divers would be necessary in order to properly navigate around the wreck and deal with unpredictable changes in the weather and tide.
Lighting and gear would be limited — shooting underwater meant they had to work with what they had available: on camera strobes or natural light.
The BTS video, accompanying blog post and the resulting images show off the incredible amount of planning and work that went into creating these surreal images, while the images speak for themselves.
Von Wong seems to continually push out images that take the viewers out of this world and this shoot is no different. Whether it's information or inspiration you're looking for, this series and accompanying video comes through in spades.
(via Von Wong)
---
Image credits: Photographs by Von Wong and used with permission