Riding the Rails: A Chat with Documentary Photographer Michelle Frankfurter
Born in Jerusalem, Israel, Michelle Frankfurter is a documentary photographer from Takoma Park, MD. Before settling in the Washington, DC area, Frankfurter spent three years living in Nicaragua where she worked as a stringer for the British news agency, Reuters and with the human rights organization Witness For Peace documenting the effects of the contra war on civilians.
Since 2000, Frankfurter has concentrated on the border region between the United States and Mexico, and on themes of migration.
PetaPixel: First Michelle, tell us what led you into a life as a photojournalist?
Michelle Frankfurter: I'd always wanted to be a veterinarian, but after my freshman year at Syracuse University, I quickly realized I was on the wrong path. I didn't really know what I wanted to do, but I thought I would take a photography class as an elective while I was figuring things out. It was like a door opened for me. I was hooked.
PP: Who were/are the influences and mentors who helped to guide you in your career path?
MF: Initially, they were the photographers whose work turned me onto photography in the first place: Mary Ellen Mark, W. Eugene Smith, Diane Arbus. Their work introduced me to the visual language of photography.
As a young intern and then later, as a staff photographer for the Syracuse Newspapers, I learned a lot from the other photographers — especially the ones who went beyond aesthetics, using the medium to present a nuanced commentary on social issues. After a few years working for the local paper, I grew bored, so I quit my job and headed to Guatemala and Nicaragua to learn Spanish.
PP: Do you have that famous 'travel bug'? Is travel an important aspect to your work? Something you can't do without?
MF: It's like I'm two people — one of which is a reclusive homebody who actually hates traveling and would rather be at home with my dogs. Honestly, I'm never happier than when I'm at home. But at home, life is ordinary and eventually, if I haven't been anywhere in a while, I start getting twitchy and irritable.
It's not so much about the traveling as it is about producing new work. The stories that I gravitate towards are like huge, epic adventure tales that are an escape from reality — especially in the beginning when I'm all caught up in the romance of the story. Also, I'm easily distracted. When I'm away in Mexico, I'm there to work. It's a lot harder for me to stay focused and concentrate on something close to home.
PP: Let's talk about your project Destino. What is the story you're telling here, and how did you enter into it?
MF: Destino grew out of an earlier project that I began in early 2000 about life along the U.S.-Texas border. In 2009, I read Sonia Nazario's Pulitzer-prize winning book, Enrique's Journey, about undocumented Central American kids whose mothers had left them when they were very young to look for work in the United States. Predominantly from El Salvador and Honduras, these mostly teenage boys traveled by rail across Mexico in search of their mothers in the United States. Along the way, they faced a multitude of dangers.
The book had a profound impact on me. Although a work of nonfiction, the narrative was so compelling that in many ways, it read like an epic adventure tale. In 2009, I basically gutted the original project down to around 3 or 4 images that fit this particular Exodus theme. I shot the bulk of the project on my own dime, juggling credit cards and using frequent flyer miles. In early 2012, I launched a Kickstarter campaign to help fund the last leg of the migrant journey along the stretch of U.S.-Mexico border, where warring drug cartels made working logistically complicated and personally dangerous.
With funds raised through Kickstarter, I was able to hire a fixer and a driver to gain access to remote locations in the Sonoran desert and also work in some pretty sketchy locations in Tijuana. Then in 2013, I received a grant from the Aaron Siskind Foundation, which helped fund completion of the project earlier this year. The shooting is done. The next step will be to have the work published as a book.
PP: You said you worked in "sketchy locations," did you ever feel that you were in danger somehow?
MF: I have a general rule that I follow: I don't work in places where I am an official target or where I don't speak the language. Mexico is dangerous, most of all for Mexican journalists, but it also depends on the story you're covering.
Any investigation related to the drug trade and the criminal organizations that control it is going to be dangerous. The closer you get to the U.S. border, the more dangerous the situation becomes because that's where all of the illicit trades intersect: drugs, smuggling, and human trafficking.
Nuevo Laredo, for example is completely controlled by the Zetas drug cartel, to the extent that working in that zone is impossible (I would never put a Mexican journalist/fixer in danger to facilitate my project because they're the ones who must deal with the consequences after I'm long gone).
PP: What can you tell us about your photographic style? What is it that you're looking for when seeing your subjects through the viewfinder?
MF: I work intuitively, feeling around for mood-based images that evoke or convey something, rather than illustrate. I think of pictures as either being "of" or "about." I'm much more interested in the latter.
PP: You've won two World Press Photo awards for your work in Haiti. Is a distinction like that validating for you? Important for you and your work?
MF: At the time, it was hugely rewarding and validating. Haiti was an experiment in complete artistic freedom. I received a small stipend to go to Haiti to pursue an independent documentary project. Free from assignment deadlines and editorial constraints, I was able to focus on the themes that were of interest to me. I worked with a medium format Bronica, two lenses and B/W film. It was a liberating experience.
At that point, I'd been a professional photographer for ten years — at a newspaper in Syracuse, for a human rights organization and then a wire service in Nicaragua, and finally, as a freelance photojournalist in Washington, DC. None of these scenarios felt like the right working model for me.
I was happiest when I could be completely independent. In Haiti, I found a way of working that suited me. So that just left the question of, how then do I make a living? That's when I basically separated my work life (work that paid the bills) from Work Life (work that fed the soul).
Freelancing for newspapers and magazines was too much like being a Hunter-Gatherer: I was either just barely scraping by or if I was busy shooting assignment work, I had no time for personal projects. I decided to apply my documentary approach to shooting weddings. I thought of weddings as mini grants, paying bills and at the same time, helping to underwrite personal projects.
PP: Talk more about that struggle to balance personal work and professional work, because that seems to be a common struggle for many photographers. What advice would you offer to those in that situation?
MF: I think most photographers simply accept the struggle as a fact of life. It's always been a difficult act to balance, but with the collapse of traditional print media and the editorial market in general, things are more competitive now than they've ever been.
You have to be totally driven by the need to do your personal work. There are a lot of ups and downs (although, often, it can feel like one, long, sustained down). There are grants for which you're passed over, competitions you don't win, juried reviews you're shut out of, all the while, you're hemorrhaging money or racking up debt in pursuit of something intangible and difficult to explain, even to yourself.
It can feel isolating. I think looking for a community of like-minded individuals helps because you're all going through the same thing. You try to take the rejection less personally. But I think you have to be very committed.
PP: What is it that appeals to you in photographing the struggles and perils of others? You want to tell the story, and your projects are important ones to tell, but at what point do these stories become about your own personal interest and desire?
MF: I'm drawn to underdogs or classic anti-hero protagonists. Like Huck Finn, they are rough around the edges, but morally good. The stories I pursue have to have some kind of redemptive narrative and a caste of characters with whom I identify, who I admire. The stories are personal — a kick to the cojones of the bullies who tormented me when I was 12.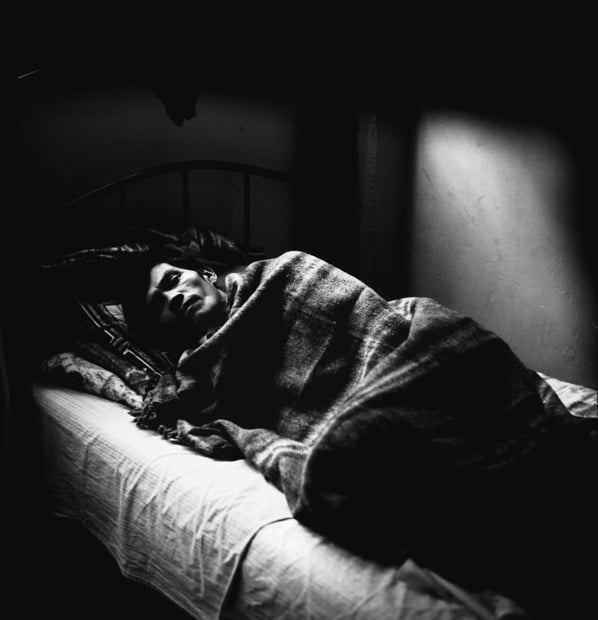 PP: What sticks out in your mind when you think about your time in Tijuana? What adventures, stories, or experiences have had a lasting impact on you?
MF: Riding the rails with migrants in southern Mexico had to be one of the most memorable experiences of my life — especially the first time. Initially, I had planned on traveling to different migrant shelters to take large format portraits of Central American migrants. Riding la bestia wasn't part of the original plan (migrants call the train la bestia — the beast — because of the number of people who have been injured or killed while riding it).
I brought an Ebony 4×5 field camera and all the gear that goes with it, which is a lot to schlep. At the last minute, and mostly as a backup plan, I packed my Bronica 6×6 and one lens. The 4×5 was more of a hassle than a tool. It was uncomfortable, awkward and not really appropriate for the situation. Once I started talking to migrants and hearing some of their stories, I realized I had to do the ride with them.
There's something about letting go after assessing the risk factor that is extremely liberating. I just felt at peace with whatever might happen. Having an understanding of what these people experienced felt worth the risk.
I remember sitting on top of the train, looking at the landscape, ducking branches when everyone shouted to duck, rolling past mango groves and small villages and towns, where people sometimes stopped and waved. There was a point where the train slowed to a crawl and this kid climbed off, then trotted alongside the train. He gathered a bunch of fallen mangoes, cradling them in his shirt and then running to meet the tail end of the train, he scrambled back up the ladder, leaping from car to car. He paused long enough to drop a mango in my lap and then sprinted off to join his buddies further down. It's just something I'll always remember — one in which I felt completely alive.
PP: Lastly, what's coming up for you over the next year, photographically or otherwise?
MF: This year, if the Kickstarter campaign to cover book production costs is successful, Destino will be published as a hardcover book of photographs.
PP: Thanks for your time Michelle, and best of luck.