Artist Creates Incredible 'Melting' Sculpture Illusion Using Strobes and Still Images
What you see in the video above is a real sculpture that does, in fact, look as if it is perpetually melting right before your eyes. But while creating the exact sculpture took months of design and engineering work, the photographic technique behind it was invented as long ago as 100 BC.
What you're looking at is a three-dimensional "zoetrope," an animation device that created the illusion of motion using lighting effects or a sequence of still images (in this case, it's a mix of clever sculpting and well-timed strobes).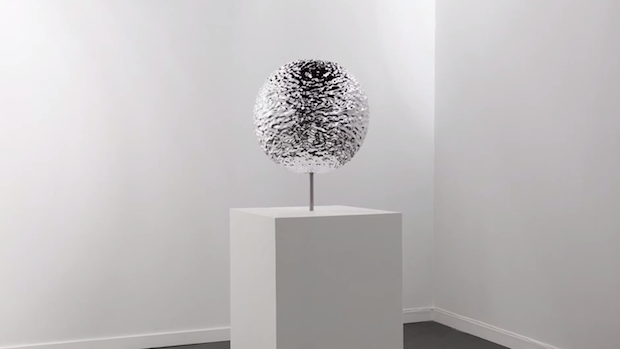 Created by digital artist Takeshi Murata, the "Melter 3-D" sculpture is on display in a darkened room at Ratio 3 gallery as part of the Frieze art fair. When you enter the room, you see a spinning orb that, with the help of some rapid strobe action, turns into a melting orb.
The video above, on the other hand, uses perfectly synchronized stills of the sculpture to achieve the same effect, so the in-person experience would be a little bit different.
However it's done, it's almost hard to believe. A brilliant mix of sculpting and animation that comes to life in video form with some help from well-timed still images and precise lighting… truly a sight to behold.
To learn more about Melter 3-D, head over to The Creators Project website or visit Murata's own website by clicking here.
(via Colossal)