Leica Unveils Summilux-M 90mm f/1.5 Lens and 'Ghost Edition' of the Leica M10-P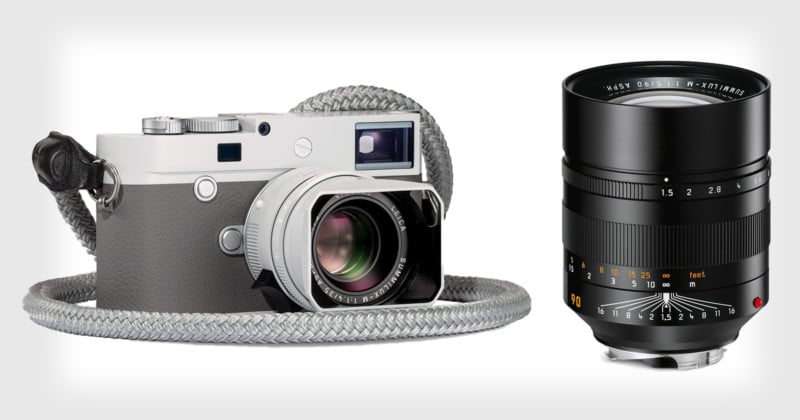 Leica has just unveiled two new products for M-system photographers and collectors with deep pockets. The $13,000 Summilux-M 90mm f/1.5 ASPH lens promises to "set a new benchmark" for portrait photography, while the $15,000 limited edition Leica M10-P "Ghost Edition" camera takes a design cue from faded wristwatches to create a gray and silver version of the M10-P.
Leica Summilux-M 90mm f/1.5 ASPH Lens
Leica is debuting this lens as, "the latest milestone and longest focal length in the storied family of Summilux-M lenses from Leica." With a maximum aperture of f/1.5 and a focal length of 90mm, the lens promises to "set a new benchmark" for portrait photography by offering outstanding optical quality and similar depth of field performance to the Noctilux-M 75mm f/1.25 ASPH.
The optical formula is made up of 8 elements in 6 groups, including two aspherical elements "made from specialized glass" and a floating element that maintains optical performance no matter the focusing distance.
Here's a closer look at the lens:
The Leica Summilux-M 90mm f/1.5 ASPH is available to buy today from "Leica Stores, Boutiques and Dealers" for the eye-watering price tag of $13,000. It obviously comes with an M-Mount, but Leica says that the lens' 6-bit encoding ensures that it will work seamlessly with the Leica SL and SL2 using the M-Adapter L (sold separately).
To learn more or pre-order yours, click here.
Leica M10-P Ghost Edition
This limited edition camera was created in partnership with respected watch brand and review site HODINKEE. The special gray and silver design is meant to replicate "the desirable 'ghosted' aesthetic emerged through the natural aging and wear of a wristwatch bezel" and specifically inspired by the faded bezel of a vintage watch owned by HODINKEE founder and CEO Ben Clymer.
"This particular idea is inspired by the first vintage dive watch that I purchased in my early 20s – a watch that has been by my side through the most meaningful years of my career," writes Clymer on the HODINKEE website. "It is a watch that began its life in stainless steel with a rich black dial and bezel, while the markers were bright white and luminous. With time, sun, and exposure, the dial and bezel faded to grey, the markers turned cream, and that shine disappeared. We call a watch like this 'ghosted,' and the likes of it are among the most beautiful and charming barometers of an interesting life lived."
Mechanically, the Leica M10-P Ghost Edition is no different from a regular M10-P. Here's a closer look at the limited edition camera: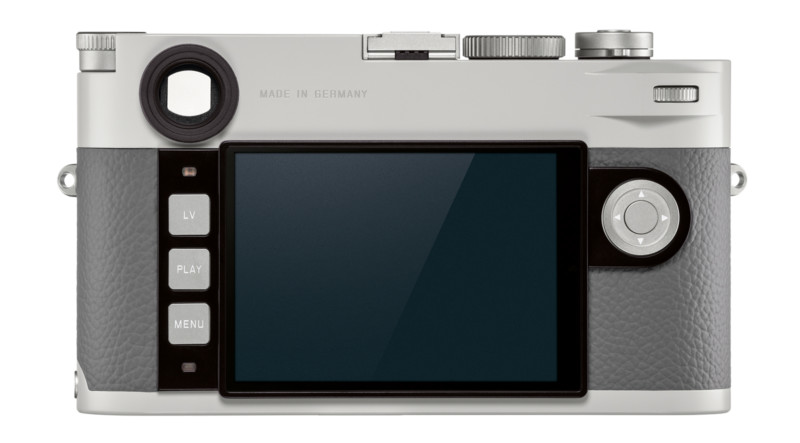 The Leica M10-P Ghost Edition is available starting today on the HODINKEE shop. The set includes the camera, a "ghosted" Summilux-M 35mm f/1.4 ASPH lens, a "stylish and rugged" silver-gray rope strap with vegetable-tanned black leather accents, and a certificate of authenticity for a total cost of $15,000.
Only 250 sets of this special "Ghost Edition" M10-P will be made, each with a "distinctive" serial number.