Black Friday: Haunting Documentary Photo Series Captures Abandoned Malls in the US
Cleveland-based photographer Seph Lawless's first job was in a bustling Ohio mall. Today, that same mall appears in his photo series and book Black Friday: The Collapse of the American Shopping Mall — a haunting series that pays homage to these victims of the recession and the online shopping revolution.
His photos really need no further introduction, and so instead of spending time describing what you could simply scroll down and see, we sat down with Lawless (digitally) to talk about the hows and whys behind this eerie photo book.
PetaPixel: What was your inspiration for this project?
Seph Lawless: I wanted Americans to see what was happening to their country from the comfort of their suburban homes and smartphones. I didn't think the problems we face as a country would change unless we faced these problems and I thought we could start by simply looking at them.
I knew if I portrayed these images creatively enough, they would have a very deep impact on the viewer. And if you're an artist that can move someone with your art even for a brief moment, then I think it's the artists' responsibility to challenge the viewer and promote some form of activism.
Art is much too powerful not to fully engage it, even exploit it, if it means the betterment of humanity. So I decided to shove these images into as many people's faces as I could. I used popular social media platforms like Facebook and Instagram to share these images and it was a very effective way to reach Americans.
PP: How did you go about finding these places? And getting access?
SL: Just traveling around. Most cities in the Rust Belt region of America are filled with places because of loss of manufacturing jobs that resulted in massive population loss. Leaving literal ghost towns scattered throughout parts of Indiana, Ohio, Michigan and Pennsylvania.
Getting in is a challenge at times. Boards can be hard to remove. Sometimes climbing to even get to a point of entry is dangerous.
PP: What gear did you use? Do you have a particular approach you take each time you photograph an abandoned mall?
SL: I use a Nikon D-90 with various lenses, tripods and most recently video equipment for an upcoming documentary.
PP: Did you run across any major challenges? (beyond finding and getting access to the malls)
SL: Not so much for this project, but my last project and book called Autopsy of America was filled with challenges and stories. Several of the abandoned homes and building had derelicts, drug users and criminals.
I was approached several times and even attacked. Entering these abandoned dwellings are like entering another world; a world where anything can happen… and often does. I was photographing the inside of an abandoned home in East Cleveland. They would later find a dead body in that home that a serial killer left there just days later.
PP: Do you have a favorite mall or shooting experience that arose from this project?
SL: North Randall Mall because it was beautiful. The architecture was brilliant and you really could see the Gruen Transfer technique popularized by Victor Gruen who came up with the concept of the shopping mall. I grew up in that mall and to be there during this project was surreal. I was there for 8 hours the last day during a thunderstorm. It was dark but I didn't want to leave. I wasn't ready to say good-bye.
PP: What about a least favorite? Any scary situations or crazy encounters?
SL: I remember this one huge factory had a mentally ill homeless man living it in with his dog. Several times I was trapped on floors as he led his dog around looking for me. It was like a bad horror movie. I knew I could outsmart a human but I was no match for an animal. I was vulnerable… that was a scary time.
PP: Any interesting tidbits or surprising factoids that you feel our readers will appreciate?
SL: I never crop my pictures. I frame them accordingly and see every shot in my head before I shoot it or I don't shoot it. I treat my digital camera like it's an analog camera. These kids nowadays shoot a camera like it's a machine gun and as a result their work comes across cold and uninspiring. I take my time, oftentimes waiting for the sun and light to align perfectly before I take a shot.
PP: If you had to describe this project/book and its purpose in just a few sentences, what would you say?
SL: The problem with America is there's not enough television shows about pawn shops and storage lockers. Americans have grown numb as their country is literally crumbling apart. I want my images to send chills down their spine, so Americans demand better for their country. I think fear can be an effective way to get results, but only after every other option has been exhausted, and I think we've long passed that.
PP: Finally, what are your photography plans going forward? What are you looking forward to in 2014?
SL: To find beauty in the most grotesque things is a gift. I plan on continuing to challenge the viewer in that sense. I'll be photographing Ohio Death Row inmates in 2014. The photographs will be an attempt to humanize them through portraits alone. That will be on July 4, 2014 as most will be out enjoying their freedom and watching fireworks, I'll be in a prison hopefully creating something powerful and moving.
Recently, two American professors from two major Universities have been using my photographs to inspire creative writing/poetry among their students. A Pakistani professor in Lahore has also been doing the same. Texas A&M recently ordered both of my books for their university library after a sociology professor requested it. My new book slated for fall of 2014 will sharing these students poems along with the images of mine that inspired them. It will be released by a leading publisher by November 2014.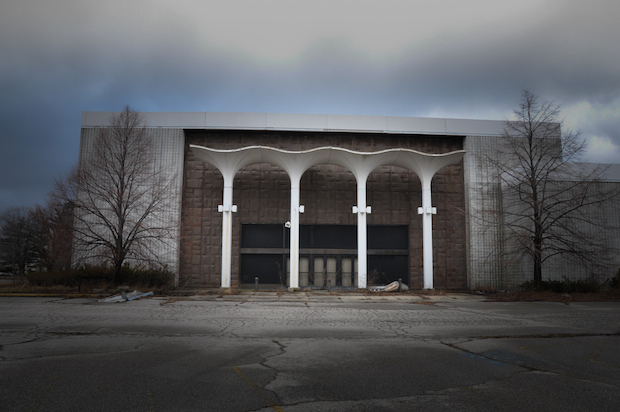 We want to sincerely thank Seph for taking the time to answer our questions and for allowing us to share his photography. To see more of his work and follow along on his future adventures, be sure to head over to Seph's website and give him a follow on Facebook.
And if you loved these abandoned mall images as much as we did, you can pick up Black Friday: The Collapse of the American Shopping Mall by clicking here.
---
Image credits: Photographs by Seph Lawless and used with permission