NASA Names Its Earth Photo of the Year After 'March Madness' Style Tournament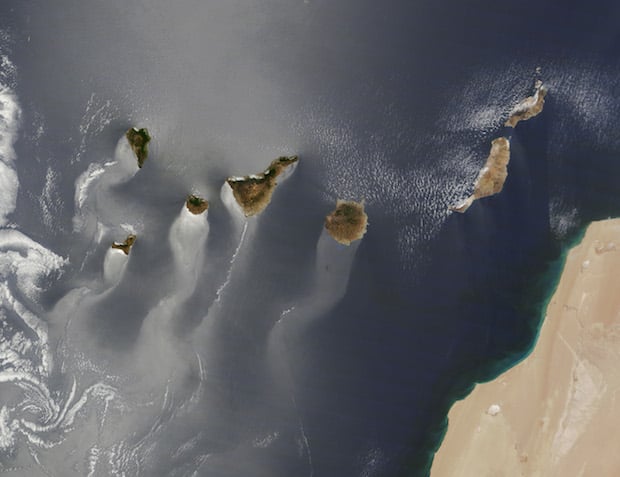 If you're more into satellite photography than basketball, then March probably had you following along with an entirely different tournament than most of the US: NASA's Tournament Earth 2014. Instead of pitting teams against each other, this tournament packed a bracket full of satellite imagery until a clear winner emerged.
The winner, which you can see at the top or in high res by following this link, is a truly beautiful snap taken by the Moderate Resolution Imaging Spectroradiometer on NASA's Terra satellite in June of 2013.
Pictured are the Canary Islands, holding their own as the Atlantic Ocean is pushed this way and that by strong winds. Here's how NASA describes the image:
In the image above, wavy, windsock-like tails stretch to the southwest from each of the islands. The patterns are likely the result of winds roughening or smoothing the water surface in different places. Prevailing winds in the area come from the northeast, and the rocky, volcanic islands create a sort of wind shadow—blocking, slowing, and redirecting the air flow. That wind, or lack of it, piles up waves and choppy water in some places and calms the surface in others, changing how light is reflected.
The 'milky color' you see in the image, explains NASA, is due to sunlight reflecting off of the ocean's surface, directly at the satellite imager. But lets not let this one photo take all of the glory. Here are a few of our favorite runners-up from the tournament:
To see all of the images that participated, find out more or download any of them in higher resolution, head over to NASA's Tournament Earth 2014 bracket by clicking here.
(via Gizmodo)