Reuters Global Sports Photo Editor Leaves After Almost 30 Years, Position Eliminated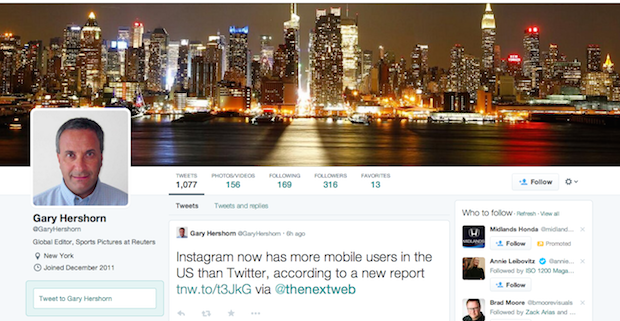 Reuters global sports picture editor Gary Hershorn announced yesterday that his position at the agency had been eliminated, and so, starting April 1st, he will no longer be working for the company.
Despite Hershorn's status in the photojournalism industry, the move doesn't come as a total surprise. Last August, Reuters decided that it would rather rely on the photographers from USA Today Sports Images than keep on its own sports photography workforce. In the inking of the deal, it was stated that no Reuters photographers could cover sporting events in the US any longer.
This drop in coverage in sporting event coverage led to a lot less photo work coming directly through Reuters, which, Hershorn tells NPPA Blog, "had a huge impact on my job […] I think the simple fact that Reuters is covering less sports in the States created less of a need to have a sports picture editor. There's no doubt in my mind that the two are tied together."
To friends in Canada a reminder on my desk where it all started. A shout out to Bob Carroll who started it all. pic.twitter.com/CRdiNcRAW0

— Gary Hershorn (@GaryHershorn) March 26, 2014
Hershorn's last day on the job will be April 1st, but by no means is this the end of his photo career. In fact, he tells the NPPA that he sees myriad possibilities for his future in the industry:
Something that allows me to use a camera again. I'm really open-minded about the future. I love print journalism but I also love the whole new world of streaming photography, and I have skills that cross both media.

For the near future I'll probably do some freelancing, but I'm open to any new opportunity. I have an enormous desire to work in the tech media field, to do something like Teru Kuwayama is doing with photography at Facebook. I'm fascinated with Instagram and Google and Flipboard. Steve Fine [the former director of photography at Sports Illustrated] is at Flipboard now. I think it's an amazing news App. I'm interested in the future with these kinds of opportunities.
After covering 18 Olympics, more than 10 MLB World's Series, 23 Academy Awards and every Super Bowl since before I was born (1990), his resume speaks for itself.
The world of photojournalism is a constantly evolving one, and although it's the end of an era for both Reuters and Hershorn, we wish him the best of luck in his future endeavors.
(via NPPA)