Giacomo Brunelli's Striking Black & White Animal Street Photography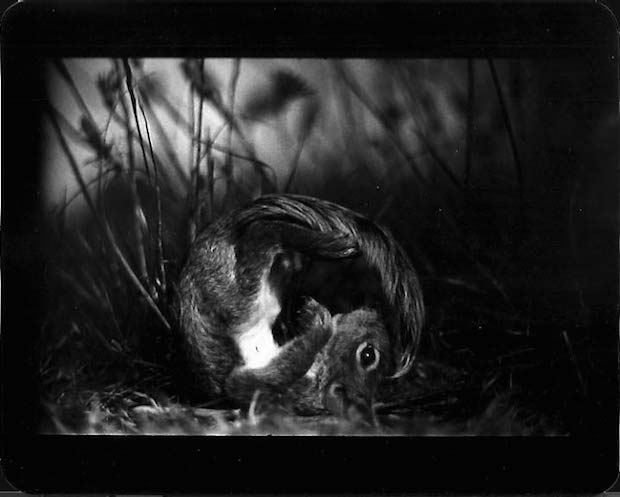 Street photography is usually reserved for humans, while animals are typically photographed out in nature, but Giacomo Brunelli's series The Animals and The Animals II turn that dynamic on its head. The photographs in these two series bring the stark, black-and-white and often invasive nature of classic street photography into to the animal kingdom with fascinating results.
The idea for The Animals took shape almost as soon as Brunelli picked up his first camera. Already in college, he stumbled across one of his father's old film cameras in a drawer and found himself in need of something to photograph. Always having felt a connection with animals as a child, that is naturally where his mind went.
The first series was shot in Italy and features animals he would run into during his daily walks, while the second was born when he moved to London and found a whole new set of animals and situations upon which he could focus his attentions.
Here's a selection of images from both series that feature the signature style that he calls "animal-focused street photography."
Brunelli doesn't discriminate, he photographs all sorts of animals… even those he finds dead. His goal, most often, is to capture a certain reaction — be it fight, flight, surprise, curiosity or something else.
Once I see an animal I want to photograph, I try to ignore it then I run after it which usually gains a response; sometimes I just stare at it and see what happens.

Their reactions are different; sometimes they are curious about the camera and sometimes they get scared by the noise of the shutter. When I am dealing with dead animals, I pick them up from the ground and place them where I think the setting works. In this case my interaction with the animal is a way to give purpose to something that no longer has it.
To see more of Brunelli's photography — both that involving animals and otherwise — head over to his website by clicking here. You can also pick up The Animals in book form here, or check out his Eternal London series in person at The Photographers' Gallery in London through April 27th.
(via Feature Shoot)
---
Image credits: Photographs by Giacomo Brunelli and used with permission