DIY Idea: Upcycler Turns Old 35mm Slides Into Colorful Curtains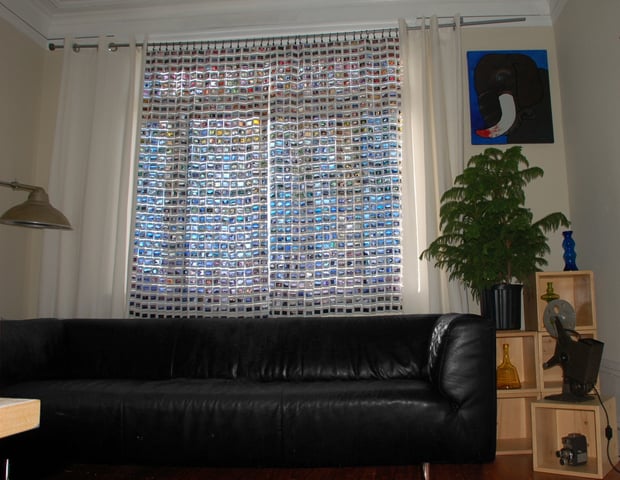 Got a couple of boxes of old transparencies and a bare window? Then designer/upcycler Scott Sherwood has come up with a great idea that will put those slides to functional, creative and colorful use.
Behold the curtains Sherwood created from a collection of more than a thousand slides, a striking creation that serves practical purposes — privacy and shade, a way to enjoy old images — with some surprising aesthetic bonuses, such as the colorful patterns the curtains refract onto walls.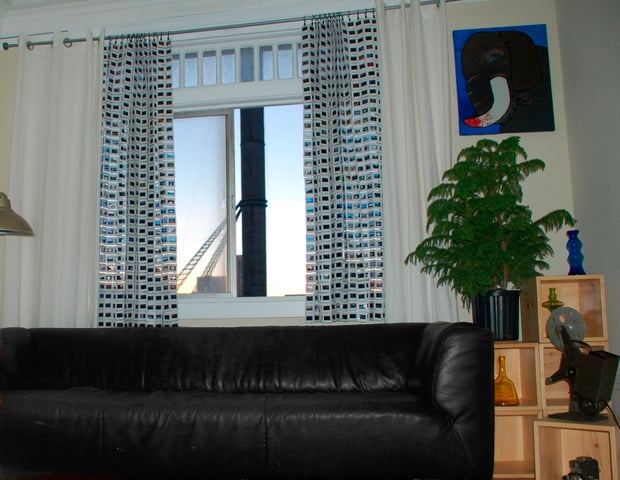 This, however, is no blow-and-go "push the slide into the vinyl sleeve" job. Each slide is housed in a standard white plastic mount, drilled with holes to accept eight tiny metal rings to connect it to its neighbors, creating a structure similar to chain mail.
Sherwood was also careful to segregate slides by dominate color so as to produce consistent patterns. Pink is at the top, and the slides modulate down according to the color spectrum — red, orange, yellow, green, blue and finally purple at the bottom. It took four months for Sherwood to create the curtains from slides he obtained from various amateur photographers.
For DIY planning purposes, note that it took 1,152 mounted slides and close to 7,000 metal rings to create a curtain 6 feet wide and 5 feet, 7 inches tall; so if you're going to give this a shot, know that it'll take some serious work to do it right.
(via Recyclart via Laughing Squid)
---
Image credits: Photographs by Scott Sherwood and used by permission.