New York City Meets London in Beautifully Composed Double Exposure Photographs
Late in 2012, photojournalist Daniella Zalcman moved from New York City to her new home in London. Zalcman adores both cities for, among other things, their photogenic nature. And so she decided to mix the two together into a creative series of double exposures dubbed New York + London, using her smartphone.

Don't let the fact that these were taken on an iPhone turn you off, however. Zalcman is a successful photojournalist whose work has appeared in
The Wall Street Journal
,
The New York Times
, the
New York Daily News
,
Sports Illustrated
, and
Vanity Fair
. She's had photos exhibited throughout New York City and some of them are in the Huston Museum of Fine Arts' permanent collection.
The choice to use an iPhone to create these was deliberate. "The iPhone was my camera of choice because I've grown to love the informal nature of smartphone photography," explains Zalcman. "The bulky digital camera I use for newspaper and magazine assignments demands a level of deliberation that can be restrictive, but my phone frees me from those constraints."
And so all of the photos you see here and in the full series on her website are created using her iPhone, not just to take the initial snaps, but to edit them together into the final composites as well.
Each photo is the result of hours spent using the negative space, color and contrast of the photos to select the best pairs and painstakingly put them together, rejecting many versions in the process, until she has the exact shot.
What results are "imaginary landscapes" that represent home for Zalcman, who now says she "belongs" to both cities:
New York + London explores place, memory, and identity through architecture and nostalgia. Brooklyn Bridge Park meets Leicester Square. Whitehall meets the South Bronx. The High Line meets Knightsbridge. After a while, the cacophony of concrete and street life begins to blend into something more universal. My hope is that in the noise and silence, everyone will find something that feels like home.
Here is a selection of some of our favorite shots from New York + London: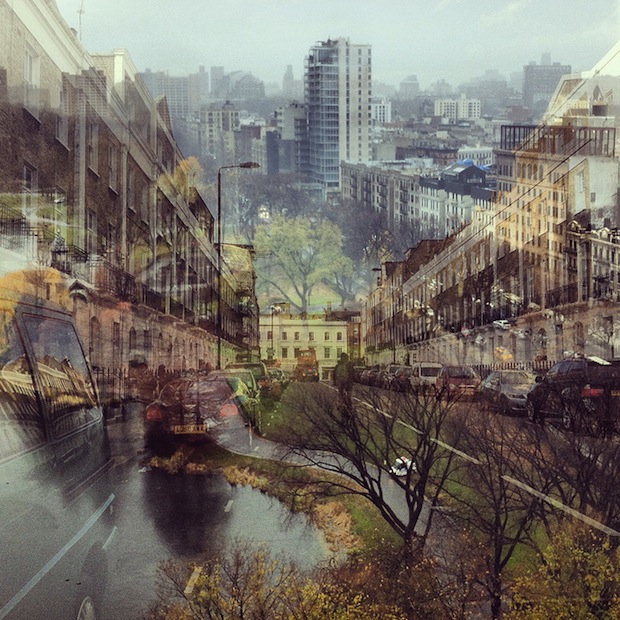 Since it debuted, the series has been very successful for Zalcman, who earlier this year was able to fully fund a limited run Photo Book of the series on Kickstarter in just 3 days, and went on to collect three times the funding she needed.
To see the rest of the photos in the series, or if you'd like to explore more of Zalcman's professional work, head over to her website, Facebook or Twitter by clicking on the corresponding links. And if you really love these photographs, you can pick up some of her favorites in silver based matte C-Type prints ranging in size from 8×10 for $50 to 20×24 (limited run of 100) for $500.
(via ExposureGuide)
---
Image credits: Photographs by Daniella Zalcman and used with permission