Colorado Photog Takes to Facebook and Saves Weddings Disrupted By Floods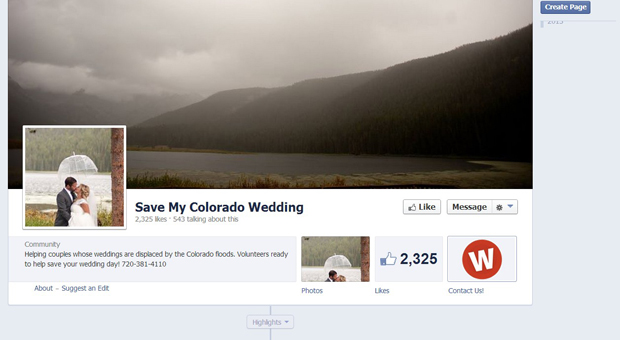 As a veteran wedding photographer, Sarah Roshan knows how tough it is to make everything come together and how devastating it can be when plans fall apart at the last minute — even if the culprit is something as seemingly intractable as the worst flooding your state has experienced in recent history.
So when severe storms in Colorado began to inundate many areas, including several she knew were popular nuptials sites, the Denver-based shooter decided to see if she could help stranded couples.
She began calling key wedding venues to determine their status and started a Facebook page, "Save My Colorado Wedding," to share her intelligence with fellow photogs and wedding professionals.
Within a few hours she was bombarded by messages seeking and offering help — from florists with spare bouquets to brides scrambling to find an emergency substitute venue.
Wedding planners pitched in pro bono, and dozens of ceremonies that would have been canceled were re-sited and re-staffed on a few hours notice. The Facebook page is filling up with stories from beyond-grateful brides, and Roshan is feeling great about her venture into superhero territory.
"It's been a little crazy and sleep has not been in the cards for a while," she told CBS News. "But what's important is that I'm helping people."
(via CBS News)
---
Image credit: Colorado National Guard Flood Response by The National Guard