Shadow Puppet Brings Voice Narration to the World of Photo Sharing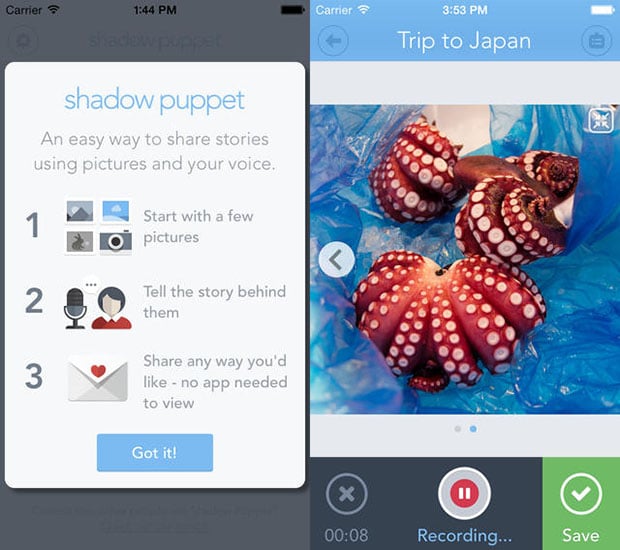 Love photo sharing but wish you could tell more of the story behind each photo as you share it? Shadow Puppet is a new app that's designed to help you do just that. Rather than simply sharing photos by themselves or with text captions, the app lets you share sets of photographs while narrating what the recipient is seeing.

The app was created by reader Adrian Graham and Carl Sjogreen, who have worked at Google and Facebook. Graham spent three years at Google as the product manager for Picasa.
Here's how the app works. On the home screen, you create a new puppet by tapping the "Create New" box:
You're then asked to select photographs from your Camera Roll to add to the puppet:
Once you have your set of photographs chosen, you can start narrating.
Once you tap the record button, all your sounds and actions are captured by the app. You can talk about the photos, zoom into them, tap areas in them to indicate what you're talking about, and flip through the set.
When you're finished, you can send the puppet off to family and friends. Recipients don't need to have the app in order to enjoy your puppets:
Here are a few sample puppets that'll give you a better idea of what the result looks and feels like:
The app was just launched on iOS 7 this past week, and is available for free from the iTunes App Store.