Peer Into Early Astronaut Spacesuits With These X-Ray Photographs
When Neil Armstrong and Buzz Aldrin stepped out onto the surface of the Moon, it wasn't technically a military triumph, but it might as well have been. On July 20, 1969, the United States effectively routed the Soviet Union in the Cold War conquest of space. The suits that the astronauts wore, with the Stars and Strips splashed across the left shoulder, left no doubt as to who the victors were.

Spacesuits evolved from the uniforms worn by military test pilots. If not strictly martial, they're unmistakably macho, one major reason why they're some of the most popular items in the Smithsonian's National Air & Space Museum. They're the space age equivalent of knights' armor. However a new exhibit affords a different perspective: A series of X-Rays, taken to help conservators observe the suits' interiors, unexpectedly captures their fragility and the vulnerability of the people who wore them.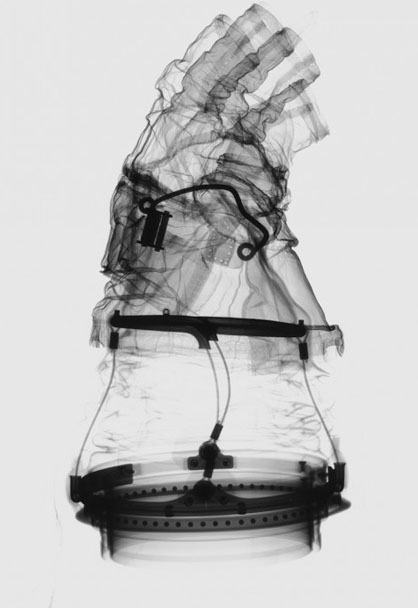 As they heroically conquered the elements – and crusaded against Communism – the Apollo astronauts were sustained by valves and tubes that wouldn't look out of place in an intensive care unit. Brave and strong as they may have been, they were human, and the human body can endure only the most particular of conditions: those of our home planet in the geological present.
The space program gave us one of the first great environmentalist symbols, the 'blue marble' of Earth as seen from afar, which powerfully conveyed the degree to which our resources are limited. Accidental corollaries to that photograph, these x-rays force us to confront just how much our survival depends on our climate. The suits in which humans have conquered the elements show just how easily the elements could vanquish the human race.
---
About the author: Jonathon Keats is an artist and critic who has had his conceptual artwork exhibited in museums and galleries around the world. He regularly writes for Forbes in his Critic-at-Large column. More recently, Keats authored the book "Forged: Why Fakes are the Great Art of Our Age". This article originally appeared on Forbes.com.
---
Image credit: Header photograph by Mark Avino, Smithsonian Institution