Photographer Gets So Close to Lava That His Shoes and Tripod Catch on Fire
Back in May, we featured the volcano photos of photographer Miles Morgan, a guy who gets so hot to lava that he's had his shoes and tripod melt. If you didn't believe that shoe melting fact then, check out the crazy photo above: it shows photographer Kawika Singson with his shoes and tripod in flames due to the intense heat of lava.

Singson is an extreme hiker and landscape photographer based in Kailua-Kona, Hawaii. Over the years, he has photographed in countless locations all over the Big Island, often in locations that the general public would find very difficult to get to. He "has taken many risks to capture just the right shot to share with the rest of the world," he says.
The photograph above was shot last week on July 4th, 2013. When we asked Singson about the location, he wouldn't reveal anything aside from the fact that it was in Hawaii. "I don't like giving out my locations," he said. "It's a secret. Plus, I don't want people to go there and get hurt."
The photo appears to show Singson braving the heat to shoot a photograph, but he was simply posing for a one-of-a-kind portrait. "I thought it would be pretty cool to take a lava pic with my shoes and tripod on fire," he writes.
It may look too crazy to be true, but Singson insists that it's a genuine photograph: "That's real lava real flames and it was really hot! I could stand the heat only for a few seconds."
Here's what Singson's shoes looked like after stepping back onto cool land (they were completely destroyed):
Singson says that this is the first time he has had his clothing and/or equipment catch on fire while photographing near lava. His shoes have started smoking before, but he had never seen flames.
It should go without saying, but you shouldn't try this stunt at the volcano near your home. It's incredibly dangerous due to the fact that it's possible to fall through the thin layer of rock into the molten lava below, just like one would fall through ice on a frozen lake. Singson tells us that "there was only a thin layer of solid rock on top of the magma" where he was standing.
You can see more of the photographer's work by following his page on Facebook and by visiting his photography website.
(via Kawika Singson via TOP)
---
Update: Chris Hirata, the photographer friend who snapped the shot above, sent us additional photos that show the progression of shots as Singson posed for the photo: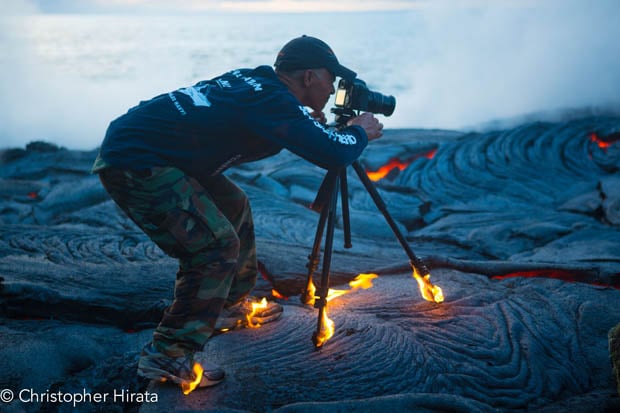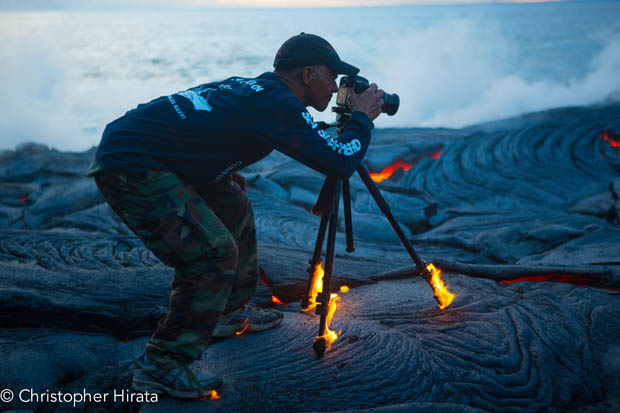 When we asked Hirata about whether the flames were natural, here's what he had to say: "His shoes an tripod did not combust due to lava… That's all I will say. But they are on fire and its in one shot." It appears it was a clever PR stunt after all.
---
Update on 7/17/13: Hawaii News Now confirms that this was done as a stunt:
The photo is real, but the flames are not the result of spontaneous combustion. "The flames on the tripod and my shoes did not start because of the lava" Singson freely admits. "It's like if you put your shoe in a hot frying pan, it will not catch fire right away".

Singson used an accelerant to start the flames then had his buddy snap the shot. The reason? "It's just something I wanted for my Facebook cover photo".
---
Image credits: Photographs by Kawika Singson and used with permission