This Massive Last Batch of Fuji Velvia 50 8×10 Film Cost a Photographer $100K+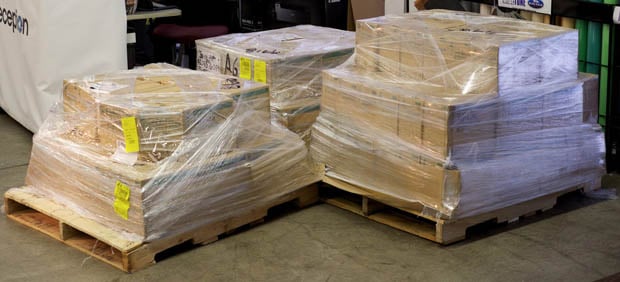 As camera film companies continue to shutter flagging film lines in order to focus on their most profitable wares, it's not uncommon for analog photographers to build up personal stockpiles of film and store them in a freezer (or two) to use in the future.
It is unusual, however, for one photographer to pay the price of a small house for a stockpile that requires a walk-in freezer to store — and that's exactly what one recently did.

Photographer Brandon Remler, the National Account Director of Fujifilm North America, writes that they recently received an order from a photographer who purchased the entire last shipment of Velvia 50 8×10 film.
The guy purchased a whopping 12,000 sheets of the 8×10 film from an authorized Fujifilm dealer in order to have enough film for at least the next 10 years.
How big was the shipment? It arrived in three pallets that each contained 40 cases (120 cases total). Each case contained 5 boxes (600 boxes total). Each box contained 20 sheets (12,000 sheets total). The entire thing took 6 months to arrive from Japan to New York City.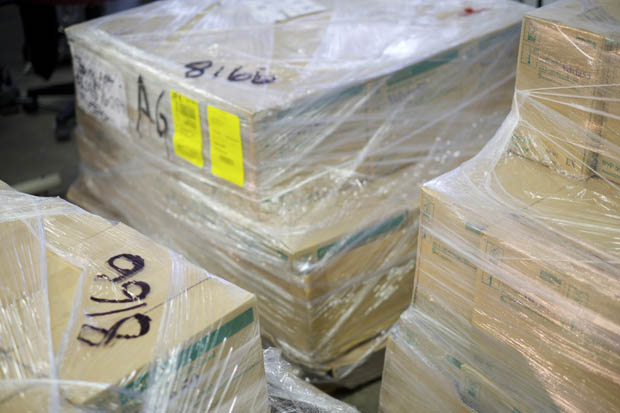 Remler couldn't tell us how much the photographer paid for the lot. Chris Gampat over at The Phoblographer calculates that the order cost $132,000. That figure is "close but a smidge low," Rember says. [Update: The cost was around $161K. See below]
Oh, and the photographer paid for the whole thing up front.
We reported back in March that Velvia 50 would still be available in 4×5 and 8×10, but Remler is now saying that it will only be sold in 35mm and 120mm formats, and that he's "certain no more is available or being made based on info from Tokyo."
Well, there's at least one photographer who won't be lacking Velvia 50 8×10 anytime soon.
---
Update: We've learned that this film shipment was purchased through Foto Care in NYC. Here are a few more photos we received from an employee named Kane:
We also found out a little more info: the total cost of the order came out to be about $161,000. The film is still sitting in Foto Care at the time of this post because the photographer is waiting to receive two "huge refrigerators" to store all the film in.
---
Update: Foto Care tells us of some "fun facts" about the shipment:
The total weight of the 600 boxes is roughly 900 pounds. The total area of the film in the shipment is roughly 80,000 square feet — almost enough to cover 1.5 football fields.
Processing the film would require as much film service as 12,000 rolls of 36-exposure 35mm film.
Laid out end to end, the film would stretch 1.89 miles.
---
Image credits: Photographs by Brandon Remler and used with permission