I Was a Staff Photographer at Newsday for 22 1/2 Days
Avoid all the signs that it's a hard time for photojournalists. Four years later your determination may pay off in a reduced job market.
My last two semesters of journalism school were riddled with accounts of massive editorial layoffs in the country's most distinguished newsrooms.

First days of internships are typically not met with a staff photographer making a case for the fall of print journalism. However, that is what I received on a ride-along with a staffer as I began my first internship a week after graduating.
That car ride seemed like a long-winded warning to back away from any print product; ending with a proclamation that he would never suggest to his children, as he once may have, to pursue a career in his field.
Along the job-hunting trail I applied for a gig in the Pacific Northwest. At one point the hiring editor informed me that the staff photographer position he was hiring for attracted three applicants a few years earlier. Now he was beset with hundreds of portfolios from the newly-graduated to the nearly-retired.
Seven weeks ago, shortly after announcing to my colleagues at Newsweek Daily Beast that I accepted a job as a staff photojournalist at Newsday, one of the talented photo editors said to me "I didn't know they still had those [positions]."
Such a successful job of avoiding the signs was so complete that I was actually offered a staff photographer's position.
No room for doubt is left after the millisecond storytelling's sweetness is revealed for the first time. Avoiding signs to abandon photojournalism as a career is the most potent side effect of the moment you "get it."
Once "it" was "got", feet hit the pavement and the "110%" feeling never stopped. The convictions of visual journalism were now bound in personal duty.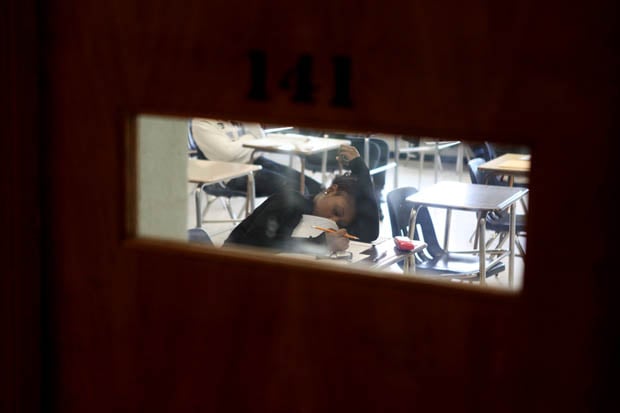 After spending 22 1/2 days documenting impressive teenage immigrants graduating high school, construction on the country's largest infrastructure project and weather art, I was laid off.
I was laid off along with each massively talented editor, reporter, producer and visual journalist producing a web-only news source developed by Newsday, called Newsday Westchester, in the counties north of New York City.
I never received business cards. I was just learning to spell my editor's last name. Direct deposit had not yet started.
Getting laid off might be the pivotal sign of jostling career paths. One of these signs should be the need to work through the wretchedness of being cast aside. I only had weeks to devote fulltime my ethics and ideologies of photojournalism to a new newsroom.
But even in those few weeks all my expectations were met. I loved every minute of the time spent meeting people and making their photographs, as I did the moment I first realized the strength of photojournalism.
Those few weeks were a gift. The emotions of losing the job were as powerful as receiving the job and I wouldn't have exchanged that time for anything. Besides a bit of job security.
---
About the author: Andy Jacobsohn is a photojournalist and avocado aficionado based in New York City. You can connect with him through his website, his blog and on Twitter.