Explore Japan's Abandoned 'Battleship Island' Courtesy of Google Street View
In the most recent James Bond movie, Daniel Craig spent some time in the eerie emptiness of an abandoned island that the villain Silva had claimed as his lair. What many don't realize is that this setting was actually based on a real place.
It's called Hashima, but it's better known by its nickname Gunkanjima (or "Battleship Island"), and thanks to Google Street View we can now tour the deserted, crumbling island as well.
The island itself is only 0.025 square miles in size, but at its peak it housed over 5,000 coal miners. Sitting off the coast of the Nagasaki Prefecture, the island sat on top of a rich coal vein. When the demand for coal began to decline in the late 60s however, the island's usefulness declined along with it.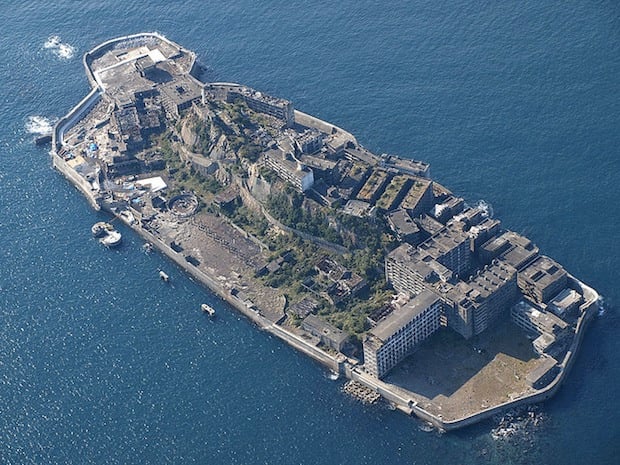 The last of the island's resident workers departed in 1974, and since then, the island has been left to fend for itself against the brutal forces of mother nature. In fact, it only opened up for tourists again in 2009, and what they found was an island already well on its way to being reclaimed by the elements.
Naturally, this is somewhere Google wanted to take its cameras, and so the company sent a team armed with those newly-loanable trekker backapacks to give the world a lonely tour around and inside the island's many crumbling buildings:
In addition to the digital tourism that these images provide, Google also hopes to provide a "digital archive" of the island in its current state.
Or, if you prefer, you can just play pretend: "Today you can virtually explore the ruins of Hashima, pretending you're James Bond waiting to be rescued," says Program Manager Wakaba Ohkura in a post on the Lat Long blog. "If you are really inspired, you can visit the real place next time you get down to Nagasaki, Japan."
(via Laughing Squid)
---
P.S. Sony also shot some really cool aerial footage of the island using its action cam and a hexacopter. Check it out below to get a different kind of tour of Battleship Island:
---
Image credit: 軍艦島 (Battleship Island) 2008 by kntrty