Miniature World Photo-Manipulations by 14-Year-Old Photographer "Fiddle Oak"
How old were you when you first started working with Photoshop? 14-year-old Natick, Massachusetts-based photographer and retoucher Zev has been at it for 6 years now, which means he first picked up his camera and laid his mouse cursor on Photoshop's Toolbox when he was just eight years old!

Since 2011, Zev has been sharing his work through Flicker under the screen name Fiddle Oak. His photos span various genres, but it's his photo-manipulated "miniature world" images that have been attracting a great deal of interest online.
Using his camera "Betsy," Zev photographs himself and his family and then loads in the images into Photoshop, where the people in them are extracted and composited as tiny figures in a gigantic world.
The resulting images are beautiful and impressive (did we mention that he's only fourteen?):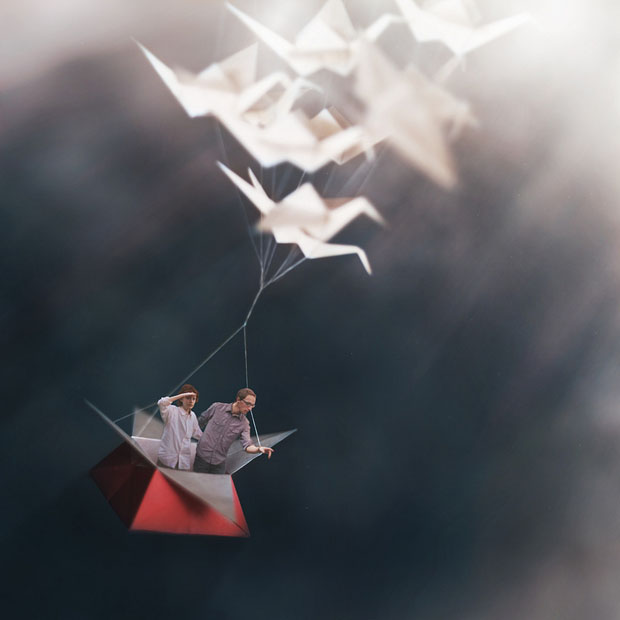 Want a peek into how the images are made? Zev has a behind-the-scenes blog post that shows the creation of one particular photo. He says that he spent seven days thinking about the theme "memory."
He then photographed his uncle while his sister held up green fabric in the background (for masking purposes)…
…and also his grandfather's pocket watch:
He then spent "hours of toil" fusing the two photographs together into a single composite image:
Here's what Zev had to tell us regarding his 'Shopping process:
I shoot the 'background' picture first, and it is usually a panorama made up of 5-20 pictures, combining pictures taken at this distance from the subject replicates the look of shooting with a large format sensor, even though I shoot APS-C. After this is done, I take a picture of a person in the exact same (or as close as I can get it) lighting, take that picture into Photoshop, mask out the background (usually with the polygonal lasso and brush) and color correct them so that the brightness and tonality is the same between the background and the miniature person.

Then I add depth of field to the person (using quick masks, and lens blur). Then, I draw in shadows, (also using quick masks and lens blur) and call it done. The process usually takes me 4-6 hours.
His 18-year-old sister Nellie — the one "seen" holding up the cloth above — is Zev's colaborer, working with him on many of the concepts and setups. However, Zev alone handles the camera and mouse during shooting and post-processing stages (Nellie does have some beautiful work of her own).
Head on over to the Fiddle Oak photostream on Flickr to see more of Zev's beautiful images.
Fiddle Oak's Photostream [Flickr via Colossal]
---
Image credits: Photographs by Zev (AKA "Fiddle Oak") and used with permission