Silhouettes in a Giant Moonrise, Captured Using a 1200mm Lens
Earlier this week, photographer Philipp Schmidli of Lucerne, Switzerland captured this incredible photograph of a biker's silhouette in front of a giant moon rising in the horizon.

Schmidli says he has been trying to capture this photograph for four months now, but complications got in the way of previous attempts. Clouds got in the way of the full moon in January, and bad weather interfered with his attempts in February and March as well.
Finally, during this latest attempt with April's full moon, the weather cleared up and gave the "green light" for this photo idea.
Schmidli first spent hours exploring Google Earth, searching for the perfect location to shoot the image. He needed a hill in the distance that would allow his subject to be framed by the moonrise. Schmidli ended up deciding on this hill:
To have the subject be dwarfed by the size of the moon, Schmidli needed a large gap between the camera and the hill. The distance for this shoot ended up being 1.3 kilometers, or 0.8 miles.
Schmidli was shooting with a Canon 1D X, a Canon EF 600mm f/4L IS II, and a 2x teleconverter. This means he was shooting at a focal length of 1200mm.
The camera's settings were ISO 2500, f/25, and 1/250s.
Here are some of the amazing photographs that Schmidli managed to capture as the moon rose in the horizon: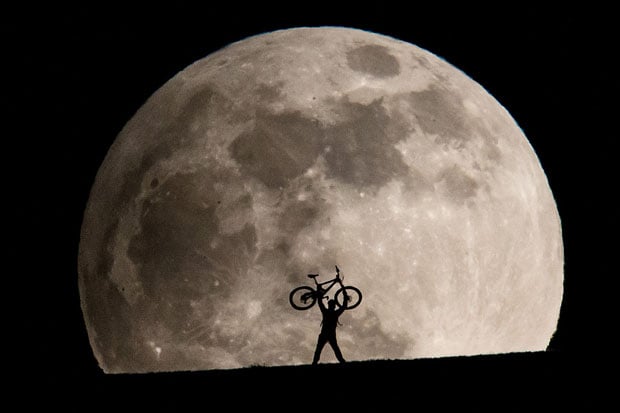 If you can read German, you can check out Schmidli's account of this project over on his blog. He also has a writeup of his failed attempt earlier this year.
---
P.S. For another example of a giant moon and silhouette project, check out this video that we featured back in January. It shots a slackliner who was filmed from over a mile away using a 1600mm lens.
---
Image credits: Photographs by Philipp Schmidli and used with permission