Man Caught Trying to Sell Book of Boston Bombing Press Photographs on Amazon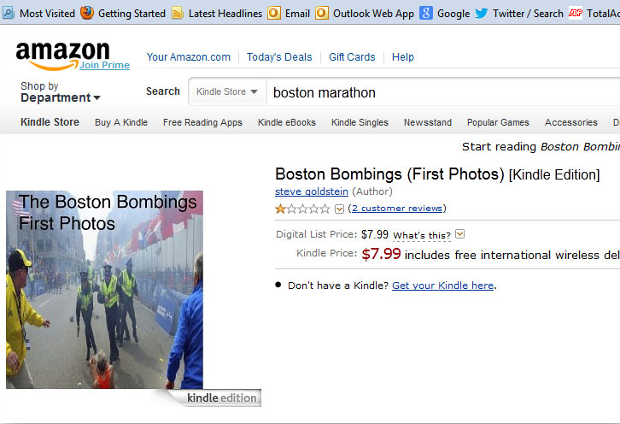 The Boston Marathon bombing was a horrific event that took three lives and left more than 170 people injured; the idea that somebody would try to profit from that is unthinkable. And yet, someone already has.
Only one day after the bombings, a man by the name of Steve Goldstein used numerous photos from The AP, Getty Images and The New York Times without permission in order to create and sell an eBook titled "The Boston Bombings First Photos" on Amazon.
According to the NPPA, former association president Bob Carey first spotted the book on Amazon and downloaded it to see if it "was as disgusting as it appeared:"
I was correct. The poorly done layout and lack of any copy other than Goldstein's copyright page for the book confirmed my opinion. Goldstein was obviously looking to make money on photos from a tragedy with no regard for the photographers' rights.
The ebook went for $8 per download until Carey brought it to the attention of the infringed-upon parties, who collectively got in touch with Amazon and Goldstein. Lawyers from The New York Times itself even got involved, immediately sending Goldstein a cease-and-desist letter.
For their part, Amazon pulled the book from its catalog within an hour, and Goldstein responded with a significantly inadequate "We will stop the use of the photos that you mention. Sorry for the use without permission."
(via PDNPulse via Phoblographer)