Blackmagic Pocket Cinema Camera Puts 1080 RAW In Your Pocket
In the past, if you wanted to carry a high-end cinema camera in your pocket … well … lets just say you'd have to have really big pockets. But that's not the case anymore now that Blackmagic Design has debuted its new Pocket Cinema Camera: a RAW 1920×1080 powerhouse in a fun-sized package.
The camera debuted today at NAB in Las Vegas alongside a few other impressive introductions from Blackmagic. On the hardware side of things, the pocket-sized cinema camera sports a 1080HD Super 16mm sensor, a built in SD card slot for Apple ProRes (no more removable hard drives) and an active Micro Four Thirds lens mount — all at less than an inch thick.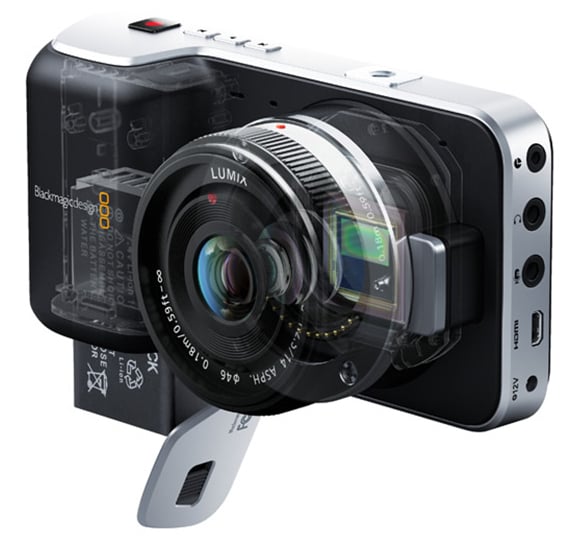 Feature wise, the camera boasts a "super wide" dynamic range of 13 stops, lossless compressed CinemaDNG RAW capture and a "feature film quality" that is "almost identical to shooting on a professional Super 16 film camera" when you're shooting 1080HD at either 23.98, 24, 25, 29.97 or 30fps.
Another great thing about the camera is how open it is; open meaning nonproprietary. Because it sports an active MFT mount, you can use any of the Panasonic or Olympus MFT lenses out there, autofocus and image stabilization intact. And the Pocket Cinema Camera also takes the same approach to video formats: no custom file formats here, everything is open standard.
The fun-sized monster will land on shelves in July with an MSRP of $995. But if you're interested in getting in a pre-order early, you can already do that at B&H by following this link.