A Moon Rise Over Los Angeles as a Time-Slice, Time-Lapse, and Animated GIF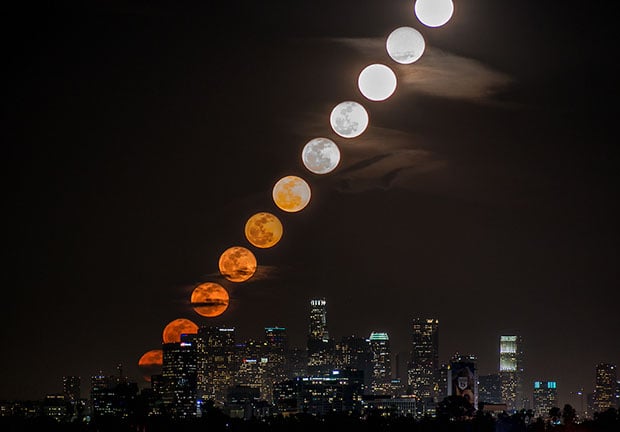 Earlier this month, Los Angeles-based photographer Dan Marker-Moore pointed his Olympus OM-D EM-5 and a 100mm lens (equivalent to a 200mm in 35mm terms) at his city's nighttime cityscape and photographed the rising of a full moon.

He shot a series of photographs over half an hour, and then turned the photographs into three separate final pieces.
The first is the "time-slice" photograph above showing multiple instances of the moon in a single frame (different "slices" of the photo are from different times).
Marker-Moore also took the entire sequence of photographs and turned them into this 10-second time-lapse video showing the moon emerging from the horizon as a dark, reddish circle and becoming whiter and brighter as it rises into the sky:
Finally, Marker-Moore took 11 of the photographs and turned them into this looping animated GIF showing the moon rising into the sky like some kind of celestial escalator:
You can find more of Marker-Moore's work over on his website and Tumblr. He's also the photographer behind the #payphoneography, which aims to preserve old payphones around the US as photos before they're taken away forever.
---
Image credits: Photographs by Dan Marker-Moore and used with permission