Interview with Shorebreak Photographer Clark Little
Clark Little is a photographer based in North Shore, Hawai'i who specializes in shorebreak wave photography, or photographing waves as they crash onto shore. Visit his website here.
---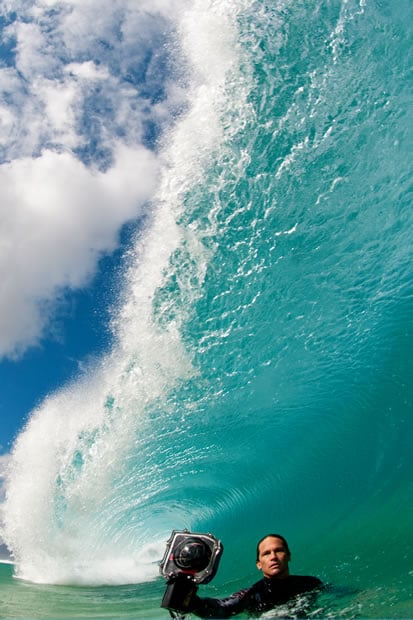 PetaPixel: Can you tell us about yourself and how you got started in photography?
Clark Little: In the late 80's and early 90's I was known in the surfing world for catching big hopeless shorebreak waves on my surfboard at a famous surf spot called Waimea Bay. Back in those days, Waimea Bay was the epicenter of the big wave surfing world. The surfing magazines published these shots since many were of wipeouts and situations where people would think that person got seriously injured.

Then I got married, had two wonderful kids and got into a career. Surfing went to the background.
Then one day, the photography started when my wife wanted a picture of the ocean to hang on our bedroom wall. She actually went to a local gallery and bought a photo of a wave at Waimea Bay. I took a look at it and told her I could get something better and more interesting. I made her return the purchase. I went out and bought a cheap digital point and shoot camera and found a waterhousing for it on Amazon. I was playing with this on the weekends. The results were good and I saw the potential. My family and friends were complimenting the shots.
Within a few months, I upgraded to professional level equipment and have been fully addicted ever since.
PP: How would you describe your photography to someone who has never seen it?
CL: My work is called "Shorebreak Photography". I put myself and my camera into a critical section of a breaking shorebreak wave, and capture the view looking out or looking in from the "tube". A tube is formed when the water from a wave throws itself over and creates a pocket of air before it collapses.
I love interesting lighting, colors, backdrops (palm trees, sunsets / sunrise, white sand beaches), water texture (or lack of texture) and lots of action and power. All of my shots contain some or all of these components.
I live and shoot on the North Shore of Oahu, Hawaii where some very large waves break in shallow water. It is an area very famous for surfing. I love it when the ocean conditions turn extreme, and I am out there capturing these views that most people will never be able to see up close.
PP: What was your first camera, and what gear do you use these days?
CL: My first camera I shot waves with was a point and shoot Canon CD500.
The gear I use these days are Nikon D300, D3 and D4 Cameras; Nikkor Fisheye 10.5 and 16mm Lenses; Waterproof Housings by "Water Housings Hawaii"; Hurley wetsuits and rash guards; Ally Swin Fins. Some of the sunrise / sunset shots are taken with an additional strobe flash unit attached to the top. With the strobe, my rig is about 10 lbs – you don't want to get hit in the head with this.
I can't stress how much my survival depends the Ally Swin Fins. Without the fins, I would not be able to go out through the shorebreak and safely come back into the shore when the surf is huge. the fins also help me move quickly into position.
PP: At what point did you realize that photography is what you wanted to do as a career?
CL: I was a manager at a botanical garden in Hawaii for 17 years. With a family including 2 kids, I never expected to veer off of my career path. But once I got into taking pictures, things started to slowly shift and within a year I resigned from my job to put all of my energy into photography.
Then just a few months after resigning, some photos that I gave to a press agency got passed to UK newspapers. It sparked. And next thing you know, all of the major papers in the UK were featuring them, and my phone starts ringing like crazy. Within a day or so I am flying out to Good Morning America in New York to appear live on their show. The Today Show and Inside Edition also featured the shots. My website sales were going through the roof.
During this crazy week, it became clear that I made the right decision to stop my job. I realized I had a chance at making a living with my photography. This was 6 years ago and it hasn't slowed down.
PP: Are you entirely self-taught in photography?
CL: I have only been shooting for 6 years and hadn't taken any classes on photography before I started or after. When I started shooting, I already had 30 years of experience in the ocean, so that was the key. All of those years of surfing paid off with knowledge of how waves move, where to position oneself and how to survive in critical situations.
When I was upgrading to professional equipment, an established surf photographer named Brian Bielmann shared his thoughts on equipment and settings. That was a big help. After that I went through the school of hard knocks… litterally.
A funny side note is that my father was a professor of photography here in Hawaii for 22 years. I would play in the darkroom when I was a kid, but never got the bug until a few years after he retired. Maybe it is in our DNA?
PP: What's the most important thing about photography you've learned so far?
CL: You can't predict when you might get a good shot. I often think I have a good idea what days are not good, but sometimes I will go out anyway and end up with a gem. The worst looking days, can switch on a dime and have a few seconds of magical lighting and conditions in them. You have to be prepared and be there for these moments. If you aren't there your chances for getting a shot are nil.
PP: What kind of risks have you faced in pursuit of your shots?
CL: When the waves are big, you might risk drowning or getting seriously hurt. There are tons of water coming down on or in front of you, sometimes in shallow water less than a feet deep. If your timing is off a bit, the consequences can be serious.
At the beaches on the North Shore where I shoot, every year a few people drown, break their neck, or get seriously hurt. I think the number of serious medical emergencies performed by the lifeguards on the North Shore is over 150 each year. Knowing the risks keeps me focused.
PP: Have you had any risky close calls so far during your shoots? Can you give any examples?
CL: Luckily I have never had a serious injury (knock on wood). I have been whacked in the head with my housing a few times and separated my shoulder once when I got flung over by a wave into the dry sand. My shoulder took the hit and made a big "crack". I think I was out of the water for a few weeks and still have a nice bump.
I have had close calls with drowning. One of the biggest days I went out was 2 years ago on the North Shore. A set of waves came in about 3 stories high. The wave train was about 6 waves. Each of these I had to swim under, get taken by the turbulence and rag dolled like I was in the washing machine. You are deep down and it is dark. Just when I was able to come up with air, the next one broke right on me. After the 5th wave, I was fading away and starting to think about my family and kids. Luckily, there were just one more wave and I was able to get through it. I got back to shore and sat there for a while. It was a close call. But also a wake up call. I saw my limit.
PP: How do you make a living? Is it primarily by licensing your photos? Selling prints? Shooting for publications?
CL: There are several income streams. I have a gallery Clark Little Gallery on the North Shore of Oahu, Hawaii in a town called Haleiwa. My website also does very well.
The main part of my business is selling prints (limited and open edition) and products with my photographs on them (iPhone cases, t-shirts, calendars, cards). I also self-published a 180 page coffee table book four years ago which has almost sold out. Each year I do around 20 or so events and exhibitions. These events have taken me to Brazil, Japan, Canada, throughout the US and all of the main islands in Hawaii. My photography has become quite popular in Japan so I make one or two trips each year. I just had a solo show in the heart of Tokyo this last December. I also do assignment work and licensing with companies such as Nike, Apple, HP, Toyota, Crocs, Anheuser-Busch and others.
PP: How much of your day do you spend shooting and editing photographs?
CL: On a good day I will be out shooting anywhere from 2-4 hours. If I go in twice, it could be even longer. During the winter when the waves are good and the conditions are right, I could be out 5 or more days a week.
Now, editing is another deal. It can be hours and hours just going through my shots and throwing away the ones I don't like. I end up tossing 99% of my shots, so it takes just as long if not more, sitting in front of the computer and going through my files. It is a task that I dread, since I love to be active and in the water. But it is part of the package of being a photographer, so I do it and get into it.
PP: How often do you deal with damaged or broken photo gear? What kind of insurance do you recommend?
CL: Surprisingly, very rare does anything get damaged. I have never had a housing leak thanks to the craftmanship of the water housings made by Tao Pascual. The Nikon cameras have taken countless hits and jolts and only had to send one into repair once. No insurance on my end.
PP: What advice would you give someone who wants to follow in your footsteps?
CL: Passion. Find the passions or let it find you. I really get into things that I love to do. I lose myself in it. Don't ever underestimate the power of having fun with one of your obsessions.
Also, keep in mind if the surf is big, take the pictures from the safety of the beach with a tripod. If you aren't extremely comfortable in the surf, don't try it since you can get seriously hurt. Obviously, you need to be a very good swimmer. I surfed for 30 years in some very large waves before I took a camera out.
PP: How long do you plan on doing the type of photography you're doing now, and what do you see your career looking like afterward?
CL: As long as I can physically. I will do it until I don't feel the passion for it. I am still super jazzed so I don't see it stopping anytime soon. If there was something to come after shorebreak photography, it would need to have a few key components to it. A good work out. Extreme and filled with adrenaline. And close to my home on the North Shore.
---
Image credits: Photographs by Clark Little and used with permission