The Art of Waves: A Lifetime of Awe-Inspiring Surf Photographs
A new book by esteemed wave photographer Clark Little showcases 15 years of dangerous work in the ocean that has produced amazing results.
Speaking to PetaPixel about his first major book release The Art of Waves he explains the thrills and spills of working in the North Shore of Oahu in Hawaii.
"I am always looking for tubes to photograph — the place where a wave throws itself up and over in the shallow water and creates an air pocket within the wave. In surfing the tube is the ultimate place to be," says Little.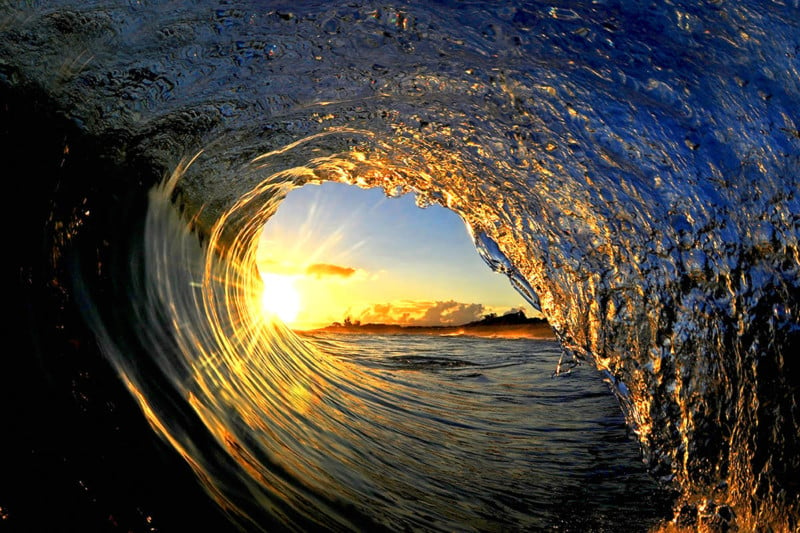 "I am hoping for really good water clarity, calm winds or at least winds that blow off shore (from the beach going out to sea), nice size waves and good weather. When the waves are bigger than a person standing, that is when things start to go. When the waves are twice as big as a person standing, it gets exciting. And when the waves are bigger than that, the adrenaline starts pumping into overdrive."
Little says that there are many factors that go into the perfect shot, but conditions can change quickly in the marine landscape so incredible images can suddely reveal themselves when previously it looked to be hopeless.
Ever Present Danger
The ocean is a dangerous place and the North Shore of Oahu, where Little is based, is known for its huge swells that originate in the stormy North Pacific, making it a mecca for surfing.
"When it's big I have to know my limits. I have learned the hard way, that going too far beyond my limits can be dangerous. People die along the same stretch of beach — it's pretty serious. These last few years, I have watched some of the massive days from shore and decided not to go out," explains Little.
Little will sometimes find himself alone in the water when the waves are big, and if he runs into trouble, he can only rely on himself to get out of it.
"For this reason, the precautions I take are to have myself in top shape. I have to hold my breath a lot while going under multiple waves while fighting currents and taking the poundings. It's cardio intensive. I also always make sure I have a pair of good fins on. Without the fins, I would be swept out to sea on the bigger days. Keeping myself mentally alert and able to make quick and decisive decision is key too."
A Wave Photographer's Equipment
The 53-year-old's first professional setup was a Nikon D200 with a 10.5mm fisheye lets with a custom waterproof housing. But he's since moved onto a Nikon D5, with a D4 as a backup. Little is still using a fisheye lens but he also makes use of a 16, 24, and 50mm depending on the subject that day.
"I use a variety of high-quality water housings by CMT water housings. Sometimes I attach a flash to the top of my housing when I shoot at sunrise and sunset to give definition to the waves. I always have a leash attached to my wrist and the camera housing, in case I get hit hard by a wave and drop my camera. But sometimes the leash shreds and the camera does get swept away."
Little didn't start photography until his late 30s after his wife has brought a photo of a wave home to put on their wal. His first reaction: "I can get a better shot."
"I grew up in the ocean my whole life and knew I would be able to get a lot closer to the waves than a picture shot from shore. That's when I decided to go and do it myself. My initial cheap setup got me started, but within a few months I was so addicted to swimming around in the water and shooting waves, I upgraded to a Nikon D200 and bought a custom housing for it. Things took off after this upgrade. It was the best money I ever spent."
Just Go Shoot
Little has pointed advice for photographers wondering what they should go and photograph: "Get out of the house. The most exciting things in the world happen outside your room.
"Go do something you love to do and take the camera with you to record it. That is what I did. I am passionate about the ocean, especially its waves. I am totally addicted. I love to be there. I love to get tubed. I love to get pounded. I love how it feels after a day at the beach."
Little's book was released in April. He has previously released self-published books in low quantities but The Art of Waves is published via Ten Speed Press, an imprint of Penguin Random House. The book follows Little's photographic journey, PetaPixel interviewed him back in 2013, and has essays about waves by journalist Jamie Brisick as well as a foreword by surfing legend Kelly Slater, who Little has been friends with since childhood.
"To think there are people on the other side of the world, nowhere near an ocean, enjoying a book on waves and marine life — it just blows my mind," adds Little.
---
Image credits: Photos by Clark Little.