Shooting Aerial Imagery with a Canon 1D C Cinema DSLR on a Drone Rig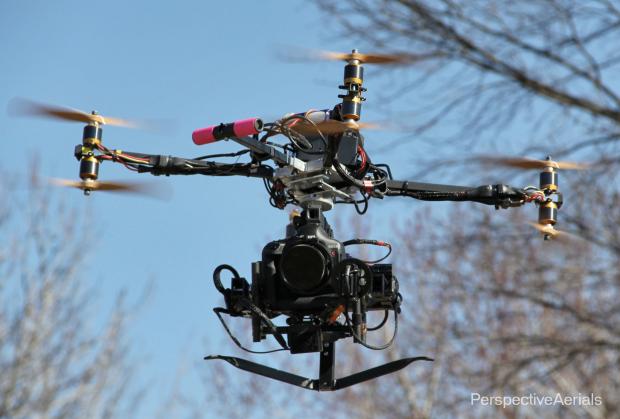 Last week Anthony Jacobs of Perspective Aerials reached out to tell me that he had become the first person to fly a Canon 1D C with a drone rig. The 1D C is a camera I have a very mixed relationship with, but when you see the way someone like Anthony puts it to work you can only imagine what the 1D C's ability to capture 4K in such a small package could make possible.

In the below video you can see some of Anthony's first test footage of his new rig as well as behind the scene footage of a Canon C300 and Sony FS700 being prepared for take off:
Check out Perspective Aerial's demo reel (be warned: it might make you obsessed with shooting with drones):
After the success of one of my projects, titled "Undercity," I was fortunate enough to have a lot of creative and talented people reach out to me about collaborating. One of the ones that always stuck out to me was Jacobs. As he explained the rigs he was building and showed me his demo reel, I was blown away and excited at the prospect of working with him.
Jacobs' first big hit was a bird eyes view of the old Yankee stadium during its last game:
As legend goes, Jacobs started Perspective Aerials and began his aerial photography business in 2007 by flying small point-and-shoot Canon cameras, capturing primarily still photography. Anthony began to take RC aerial multimedia more seriously when a photo he captured an image of the old Yankee Stadium during the final game before the stadium's demolition which was picked up by the NY Post and USA Today:
These two events sparked a lot of interest in his unique business, and within weeks Jacobs received a call from an editor at TIME magazine who wanted to run a story on his business in their technology section on TIME.com:
Jacobs decided to venture into the RC aerial video realm in 2009 after purchasing a Canon 5D Mark II. At the time no one was flying this camera on an RC copter and Jacobs was up for the challenge.
I had seen a lot of aerial footage but I was impressed with the nimbleness of Jacobs' rig and how it could act more like a Technocrane (allowing a director to start close, move around a subject and then end with huge sweeping panoramas all in one run) then a traditional helicopter (which only offers establishing shots).
Thus, I was dying to work with him and after many tries I was fortunate enough to bring Anthony onto one of my projects titled GE Works 'Juice Train'. Anthony's rig was so efficient he was able to leave it built in the back of the rental car and launch at a moments notice. I honestly don't believe the scale and scope of the video would have been as impressive without the intro and outro shot that he was able to contribute:
At that time there were a few limitations to his rig, namely a limited weight range (a FS100 with light weight lens would be close to maxing it out) and no follow focus. Still, even with these downsides the results were astonishing. Years of traveling around the globe solely flying DSLR cameras, Jacobs felt it was time to step up the game by flying larger higher quality video cameras such as the RED Epic, Canon C300/500, Sony FS700, and Canon EOS 1D C.
To fly these larger cameras, Jacobs would have to incorporate functionality such as follow focus and full 3-axis control and stabilization that can be found on the larger full-size professional equipment.
Unfortunately there aren't many option for ultra lightweight FF systems design for RC copter use. Therefore, Jacobs sought the help of Anthony Lenzo of Air Sea Land (ASL), a production company that has been servicing the broadcast and film market since 1994.
Together Jacobs and Lenzo built a custom gimbal with remote follow focus and full 3-axis camera gimbal remote operation, allowing them to have the same control as the larger professional camera cranes and jibs with the added benefit of untethered RC copter freedom of movement.
Various wireless HD video transmitters were tested for follow focus purposes and none of them had the range required for RC aerial use. The Paralinx Arrow wireless video transmitter work well over short distances but once we ascended beyond 45 meters or so our signal would become very unreliable.
We're now using a lightweight 5.8GHz analog video transmitter that has been modified to transmit at a higher bandwidth which is somewhat less that full HD but more that twice the resolution as SD, which is good enough for focus pulling purposes.
I am very grateful to Anthony for allowing me to share his results with you. I think he's a real trailblazer when it comes to aerial photography and it's amazing to watch how his creativity and ingenuity has allowed him to push his drone rig so far. I look forward to seeing what he comes up with next and see what other potential he can unlock for filmmakers utilizing aerial rigs.
---
About the author: Andrew Wonder is a director and cinematographer based in New York City. Visit his website here. This article originally appeared here.