GPP2013 Shoot-Out: Taking a Portrait of One of the World's Greatest Portraitists
One of the most entertaining events that photographers get to enjoy each year is the annual Gulf Photo Plus shootout, in which 3 photographers each get 20 minutes to take a photo from concept to completion. In 2012, the shootout pinned David Hobby, Martin Prihoda, and Greg Heisler against each other. This year, John Keatley, Lindsay Adler and Zack Arias are the victims participants, and one of last year's contestants is actually the subject.
In case you've never heard of the GPP Shootout, here's how it works. Three top-notch photographers are tasked with capturing a specific photo/subject from start to finish … in a packed auditorium … in front of 350 people … and two hecklers … in just 20 minutes. Sounds fun right? All work, including setting it up, taking the photo, and post production, must be done in the auditorium in that time frame.
Last year, the three contestants were asked to take self-portraits, and in a very interesting move, famous portraitist Greg Heisler wasn't even in the "symbolic self-portrait" he put together. So this year, the folks at GPP2013 decided that the three contestants would be tasked with taking the best portrait of the portraitist himself.
Here are the final entries from Keatley, Adler and Arias, respectively: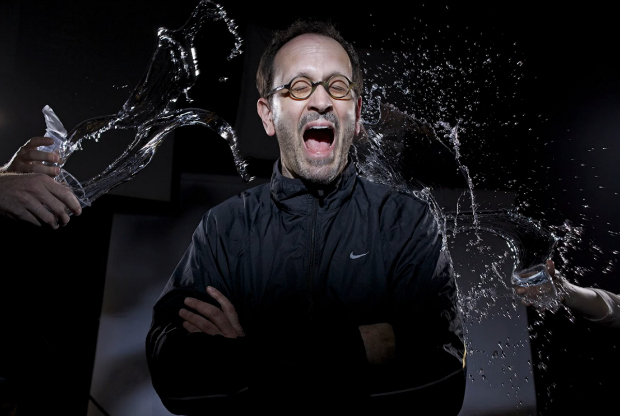 We'll let you decide which of the pros knocked the ball furthest out of the park. Or, alternatively, you can just watch the video, laugh a bit, and start planning your trip to Dubai for GPP2014 … we hear tickets are cheaper if you book way in advance.
(via Strobist)
---
Image credits: Photographs by John Keatley, Lindsay Adler and Zack Arias, respectively.