Award-Winning Washington Post Photo DQed for Excessive Photoshopping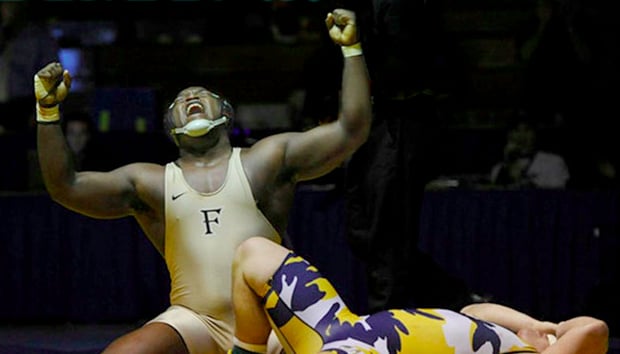 There have been several controversies surrounding award-winning photography of late. First there was photographer Harry Fisch, who had his Nat Geo Photo Contest award stripped for cloning out a bag. Then Magnum photographer Paolo Pellegrin's ethics were called into question when he was accused of misrepresenting the subject of his award-winning photo.
And now another controversy has come to our attention, this one revolving around the photo above, taken by Washington Post staff photographer Tracy Woodward. The above photo was the version that was submitted to and won the White House News Photographers Association's (WHNPA) 'Eyes of History' stills photo contest, but not before it was significantly manipulated in Photoshop.
Here's the original:
As you can see, the altered version burned out (for the most part) the referee in the background, while dodging the winning athlete's headgear — the first of which is specifically prohibited in the contest's rules.
Although the photo was published unaltered in the Post itself, the paper still considers Woodward's submitting an altered version to the contest a breach of their policy. In an interview with News Photographer magazine, the Post's photography director MaryAnne Golon gave the paper's side of the story, explaining that it was them that pointed out the manipulation to the WHNPA and had the photo withdrawn:
Once Post editors saw that it had been altered from what had originally been published in The Post, we withdrew the photo from consideration. The Post's ethics policy prohibits the manipulation of photographs, and we have taken action in accordance with that policy.
As of now, no statement has been released by the Post or Golon in regards to Woodward's current status with the paper, other than to say that they are "taking action that is consistent with [their] photo manipulation policy," and that "it's an internal personnel matter at this time."
(via Deadspin)