24-Year-Old Hitchhikes From Norway to Lebanon with a Backpack and a DSLR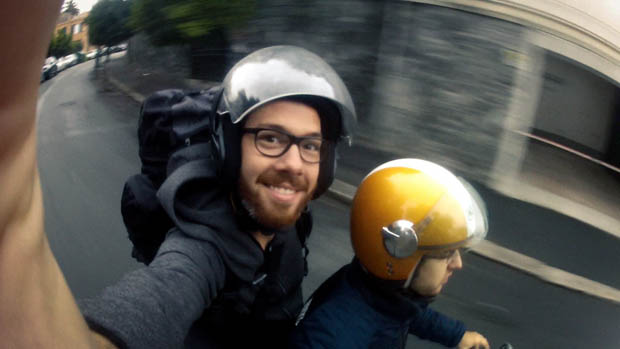 24-year-old photographer Sébastian Dahl is quite the adventurer. Back on September 15th, 2012, Dahl left his home in Oslo, Norway and began a hitchhiking journey that ended nearly three months later and thousands of miles away in Beirut, Lebanon. He snapped photographs along the way, creating a beautiful travel photography diary documenting the trip.

Here's a Google Maps map showing Dahl's start and end points, just in case you're not familiar with Europe and the Middle East:
Dahl's packing list consisted of: 1 large backpack, 1 camera handbag, 1 DSLR, 1 40mm lens, and a 28mm lens. Here's a look at what he carried around inside his handbag:
Although he aimed to document the whole trip in photographs, he was also focused on four main photo projects through the journey. They're titled, Portraits from the Road, Right Side Window, I Slept Here, and Passengers.
Portraits from the Road is a collection of photos showing the people who were willing to give him rides along the way. Dahl tells us,
I try to take the best possible portraits in the environment and time that I have, always including a hint that these are people who gave me lifts (car keys, part of the car visible, parking place, etc..)
Right Side Window is an effort to document how the landscape changes as one moves from Northern Europe to the Middle East.
By using a topographic approach I try to show this in the most simple and effective way possible, always keeping a piece of asphalt in the bottom of the viewfinder. What I like about this project is that I doesn't end up being landscape photography, I think it puts a question mark on the whole idea of road tripping. It illustrates the limitations of the road as being the ultimate interest: for me it's more about the people and the situations I end up in.
I Slept Here is a set of images showing the different beds he slept in during the nights.
During the 3 months I was traveling for I only slept in a hotel room once; the rest of the time I asked random people in the streets to host me (or stayed at friends and family's places) "hello, I'm traveling and I'm looking for a place to spend the night. Do you have a bed or a sofa I could crash on for a night?" was basically how I proceeded, and it was always quite easy.
Finally, Passengers is the biggest project Dahl worked on during the trip. In each of the 112 cars that transported him from Oslo to Beirut, he mounted a small camera and suction cup to the windshield, and captured footage of himself sitting with the other passengers of the vehicle.
I think I managed to capture/illustrate why I love hitchhiking and would rather NOT travel any other way. All these people are so different and they all helped me without asking too many questions. They come from all over Europe, have different religious and political beliefs, and together they helped me. From Oslo to Beirut I did not have any single bad experience and I never waited on the side of the road for more than an hour (usually within 20 minutes).

I want to show these pictures to counter-fight the stigmatizing image the medias create. This is my take at trying to show people that there's a world of nice people out there and I have video+photo footage to prove my point.
Dahl tells us that he's planning to stay in Lebanon for a year and find work as a freelance photographer. He's also turning his hitchhiking adventure into a book and short film.
Interested in seeing more text and photographs that resulted from the road trip? Check out Dahl's photo blog on which he shared his experience.
#OsloBeirut by Sébastian Dahl (via Laughing Squid)
---
Image credits: Photographs by Sébastian Dahl and used with permission