Pentax Unveils a Cheap Body Cap Lens of Its Own for Its Q System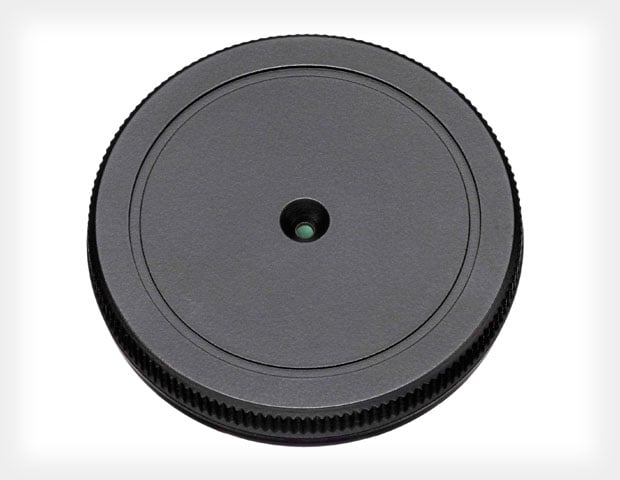 Olympus isn't the only camera company toying around with the concept of cheap body cap lenses. At the CP+ show in Japan, Pentax took the wraps off a body cap lens of its own for its Q system line of mirrorless cameras. Officially called the "Mount Cap Lens," the accessory is a pint-sized hyper-focal lens that will reportedly produce toy-camera-style photographs.

The company is planning to start selling the lens sometime in the summer of 2013. Pricing has not yet been announced, but it would be ridiculous if it comes with a fatter price tag than Olympus' $50 body cap lens.
At the show, the company also announced a new AF360FGZ II external flash unit. It'll have a maximum guide number of 36, and will feature P-TTL, automatic flash discharge level adjustment, and a head that can be adjusted both vertically and horizontally. Expect it to hit store shelves at around the same time as the body cap lens this summer.
---
In other (slightly humorous) news, DxOMark decided to run its extensive quality tests on the Olympus body cap lens, and found that it's pretty horrible:
Hopefully none of you were expecting more from a cheapo $50 lens. Here's their conclusion:
No photographer buying a $49, 9mm long body cap lens is expecting optical perfection. Instead this lens is a bit of fun, a curiosity, a point and shoot option that's a bit quirky and doesn't cost much money. The limited focusing, fixed 15mm focal length and f/8 aperture will be overly restrictive for some and the latter means you'll need to shoot in decent light, unless you're really going to crank up the ISO. Those restrictions however will often make you work in a different way and who knows, you might be pleasantly surprised by the results.
At least the sample shots we've seen so far are decent/passable.