Quirky Portraits of People Surrounded by Swarms of Hanging Objects
For her projects titled Égarements and Quotidien, French photographer Cerise Doucède creates elaborate scenes by hanging objects from the ceiling, creating swarms that look computer generated but aren't.

The swarming objects include everything from dishes and tea sets to apples and breakfast, and give each photograph a chaotic look and feel.
Doucède spends up to three days on each photograph, carefully setting things up just the way she wants them. She then waits for her human models to become distracted during the shoot in order to capture them with a gaze that's fitting for the dreamlike environments. Regarding the strings seen inside each shot: Doucède intentionally leaves them visible in the resulting photographs in order to draw a line between real and fake.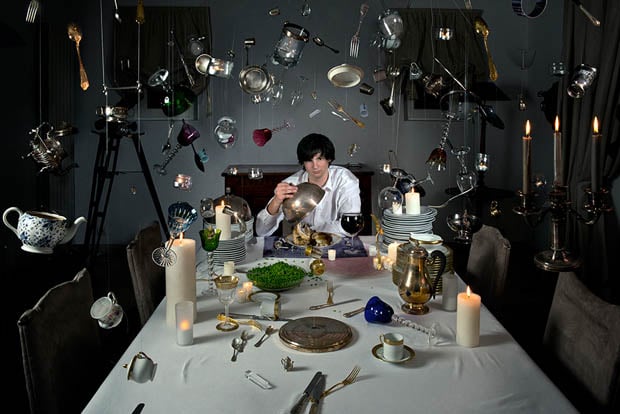 You can find more of this beautiful work over on Doucède's website.
(via My Modern Met via Laughing Squid)
---
Image credits: Photographs by Cerise Doucède