The Light That Shines: Showing Cancer Patients They're Beautiful with Photos
Jill Conley was diagnosed with breast cancer at age 31. Only six months into her marriage, she and her husband had to go through the horrors of chemo, radiation, a double mastectomy and a problematic reconstruction before she finally entered remission. Now 35, she has been diagnosed with incurable stage 4 bone cancer.
Photographer Sue Bryce was moved after hearing of Conley's story, and offered Jill and her friends a trip to Paris. Bryce's idea was to use her photographic talents to uplift Conley and cancer patients around the world. The documentary above, titled "The Light That Shines," shows the beautiful work that resulted from that trip and the time the two women spent together (Warning: the video contains some strong images).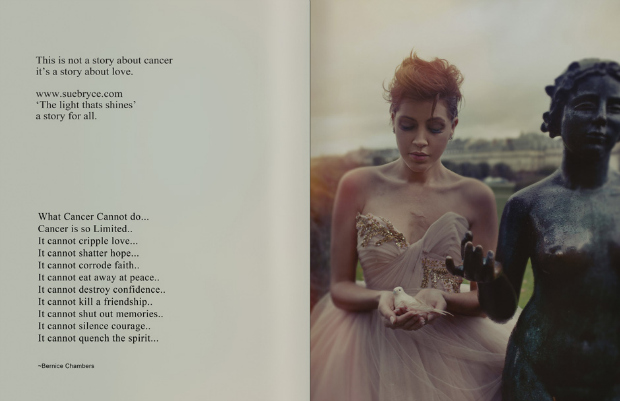 The documentary is heart wrenching, and will be particularly moving to those of you who have been affected by cancer in one way or another. At the same time, it's incredibly uplifting to see a photographer use her art to make a positive impact on the lives of others.
As Conley's friend Nikki puts it, Bryce's dream was "to inspire other women to feel ok with their body whether they have any form of cancer or anything that has caused their body to look different from how society says [their] body should look." In that she's succeeded in spades.
The title of the project ("The Light That Shines") is a further manifestation of that goal. To Bryce, beauty is "the light that shines out from inside you. When you hold someone's gaze, you see it. Everybody has it, it is the most beautiful thing I have ever seen." Clearly, she was able to capture that light in Conley's eyes, and hopefully they together will inspire others to see it in their own.
---
Thanks for sending in the tip, Jon!