Nothing Says 'I Love You' to Photo Geeks Like This Chocolate DSLR
You've probably seen chocolate-colored DSLR cameras before, but have you ever seen DSLR-shaped chocolate? The camera above was created by San Francisco-based Etsy seller Hans Chung as a gift for his friends and family. It's a highly detailed solid chocolate replica of a Canon 60D that has a battery grip attached.

Chung carefully created his own custom mold, and has used it to create three of the chocolates so far (one of which has been eaten already).
He's planning to only create 5 more of the coco-cams as a limited edition run. Each one will be made with the chocolate of the customer's choice from the Guittard Chocolate Company product line.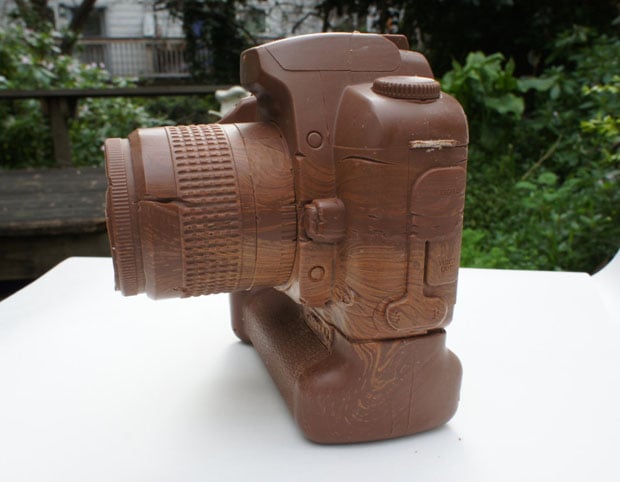 Once an order is placed, production takes one week and the camera is then shipped to the customer via FedEx standard overnight shipping. It arrives wrapped in plastic, surrounded by a gel ice pack, and displayed in a clear acrylic box.
Live in San Francisco? You can pick up yours in person.
Chung notes that the camera comes body and grip only. Chocolate SD cards, batteries, lens caps, and straps are not included in the sale.
Valentine's Day is just around the corner. If your significant other (or the person you hope will become your significant other) is a photography geek, perhaps you should consider handing them one of these chocolate DSLRs rather than a boring ol' chocolate heart.
Oh, and by the way: each of the cameras costs a cool $500 — about the price of some real DSLRs.
Limited Edition Solid Chocolate Canon 60D (with battery grip) [Etsy]