Amazon Listing Suggests Apple Aperture 3 Replacement May Be Nigh
If you've been thinking about buying a copy of Apple's Aperture 3 for your post-processing work, you might want to hold off for a bit. A replacement may be on the near horizon — at least according to a new book listing that has popped up over on Amazon Canada.

The listing appears to be a placeholder, with the $35 book's title currently set to "Apple Aperture X – under NDA: A Workflow Guide for Digital Photographers." There's a message that says "This title has not yet been released," an option to preorder the book, and a description that has been copied-and-pasted from
the Aperture 3 guidebook
written by the same authors.
The book is set to hit shelves on March 1st, 2013.
While it wouldn't make sense to read too much into this listing in and of itself, especially given the utter lack of useful information, it's notable because the exact same thing happened prior to the launch of Aperture 3.
In late October 2009, AppleInsider spotted a nearly identical placeholder page for a book on "Apple Aperture X (3)," to be published in May 2010. Aperture 3 was launched in early February 2010, and the placeholder page soon became the official product listing for "Apple Aperture 3: A Workflow Guide for Digital Photographers."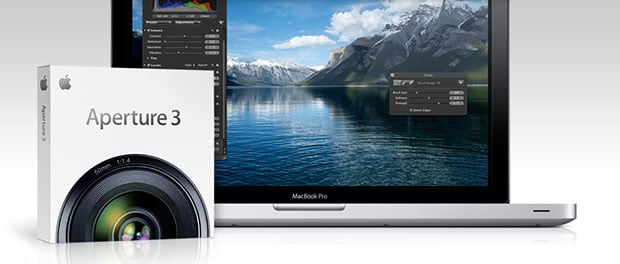 The "under NDA" portion of the title indicates that the authors signed a "Non-Disclosure Agreement" that prevents them from spilling the beans on the details of the upcoming program.
AppleInsider writes that Aperture X would be a logical name for the program:
The name "Aperture X" would fall in line with Final Cut Pro X, a major overhaul to Apple's professional video editing software that was released last year. The release of Final Cut Pro X was enveloped in controversy, as many longtime users felt the changes to the software crippled it. But Apple has since issued a number of updates to enhance features in the software.
We have no idea what new features Apple has up its sleeve for photographers, but we're guessing the software will arrive with full Retina compatibility.
---
Update: A reader named Andrew points out that over on Amazon UK, there has been a listing for a couple of months now for a book titled "Apple Aperture 4: Unleashing Your Photo Workflow."