Lightroom 4 Update Brings Compatibility for Retina Displays, iPhone Lens Profiles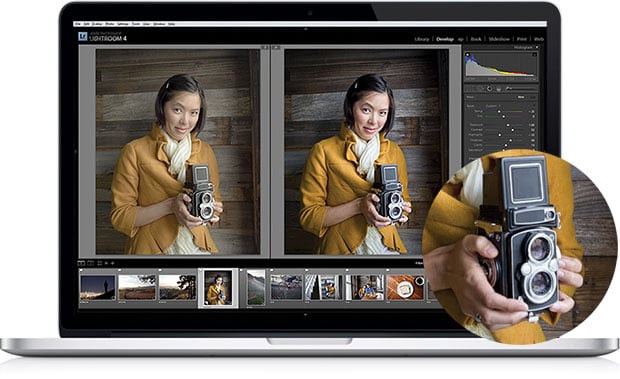 Earlier today, Adobe officially launched Lightroom 4.3 and Camera Raw 7.3, an update that brings support for Apple Retina Displays (and other HiDPI high-res screens) to Lightroom. The news comes just a couple of days after Photoshop received its own HiDPI compatibility update.

We first reported on the update back in early November when
a tester version of the update
was rolled out for photo-editing guinea pigs. At the time, the HiDPI support was limited to the Develop module, meaning photo-browsing and organizing within the Library module was still in less-than-ideal low-res.
Thankfully, between then and now Adobe has polished the update a bit more, and has now brought HiDPI support to the Library module as well.
In addition to now being high-res-display friendly, Lightroom and ACR now both support the RAW files created by 20 of the latest cameras on the market, including the Canon 6D, Nikon D5200, Leica M-E, and the Sony RX1.
There's also new lens profiles for a number of lenses by many major camera companies… and Apple's iPhone. That's right: if you regularly edit your iPhone 4S or 5 photos using Lightroom, you'll be glad to know that your program can now automatically compensate for your phone camera's quirks (e.g. distortion, vignetting).
Finally, the new version also corrects a bevy of bugs that were present in 4.2 — problems like weird crashes, broken features, freezing, compatibility issues with Flickr, flickring iPhone videos, strange tonal shifts in TIFF files, and more.
You can take advantage of these new features and fixes by heading over to the Adobe website and downloading the updates for Windows or Mac.