Photos of a Model Train Rumbling Across the Great Outdoors
Model train enthusiasts often photograph their miniature locomotives placed in realistic dioramas, but for his project titled "The Canadian: Ghost Train Crossing Canada," photographer Jeff Friesen decided to use the real world as a backdrop. He photographs the train in various outdoor locations across Canada to capture its scenic journey. In some of the photos, its difficult to tell that the train is a tiny model rather than the real thing. Friesen says that his goal was to document the beauty of his huge country in a creative way.

Here's what Friesen writes in the project's description:
My own cross-country exploration is done by taking the train, but not in the usual sense… I carry the train rather than it carrying me. It fits into a shopping bag from Mountain Equipment Co-Op.

The train is just two inches tall, and it's a ghost from another age. This is the vintage 1955 streamliner that was first named "The Canadian." Unfortunately, you won't find scheduled service for this scenic dome route, though you may see evidence of its passing. For all of you who have come across me working on this project and offered many kind words I hope you enjoy the finished photographs.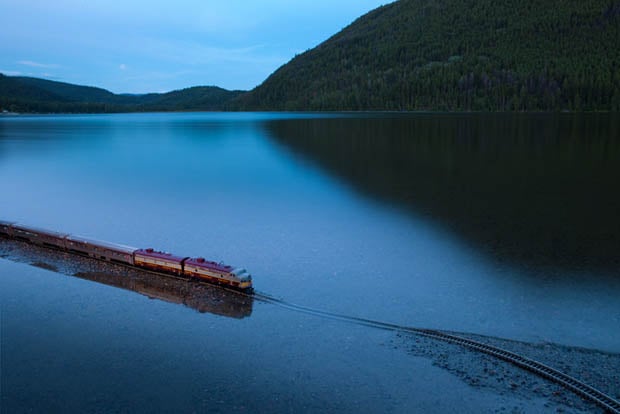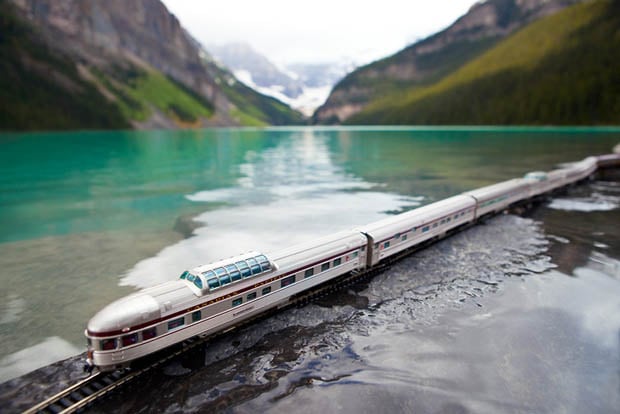 ---
Image credits: Photographs by Jeff Friesen and used with permission