A Teardown of the Nikon D700 and a Peek at Some of Its Interesting Guts
If you've ever wondered what a Nikon D700 looks like when completely disassembled, today's your lucky day. Czech photographer Martin Kozák recently did a complete teardown with a ruined D700, and then snapped the still life photo seen above.

Kozák tells us that the camera belonged to photographer
Honza Martinec
, who took a bad step backwards while on a pier and fell into the water. The D700 and an attached Nikkor 70–200 f/2.8 VR II were hanging around his neck when he took the plunge.
Although they were only underwater for a couple of seconds, and although Martinec reacted swiftly by removing the battery and allowing the gear to completely dry, he discovered (after waiting a week) that the camera would no longer take pictures and the LCD screen was broken (focusing worked, though).
After sending the camera into his local Nikon repair center, Martinec learned that the repair would cost more than the price of a new D700. That's when he decided to hand the camera off to Kozák for a teardown. After taking the camera apart, Kozák spent 1.5 hours arranging the main pieces into the arrangement seen above.
Kozák tells us that he found roughly 260 screws inside the camera. Here's a picture of the screws and all the small parts: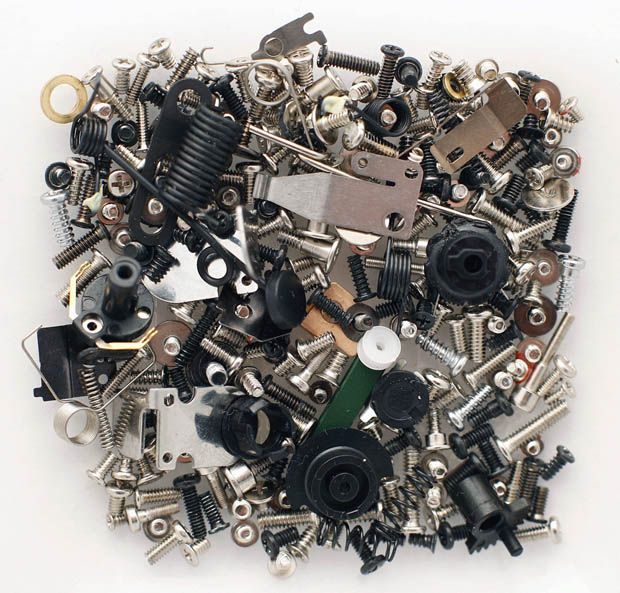 Many of the parts were labeled with stickers containing QR Codes:
Here's what the viewfinder's information display bar looks like when it's removed from the camera:
A closeup of the autofocus sensor:
The 12.1-megapixel full-frame sensor inside the camera:
A neat look at the shutter curtain. We see another QR Code and mechanical components that open and close the curtain: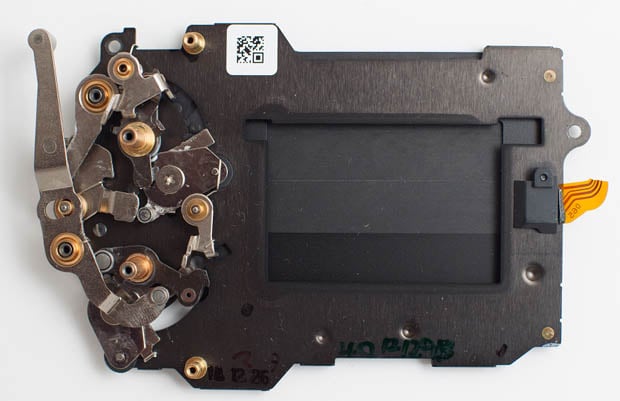 You can find a larger version of the above "neatly arranged" photo here.
---
Update: More of these photos have been published over in the Czech photography magazine Foto.
---
Image credits: Photographs by Martin Kozák/FOTO and used with permission