What It's Like to Shoot the Conclusion of a Major College Football Game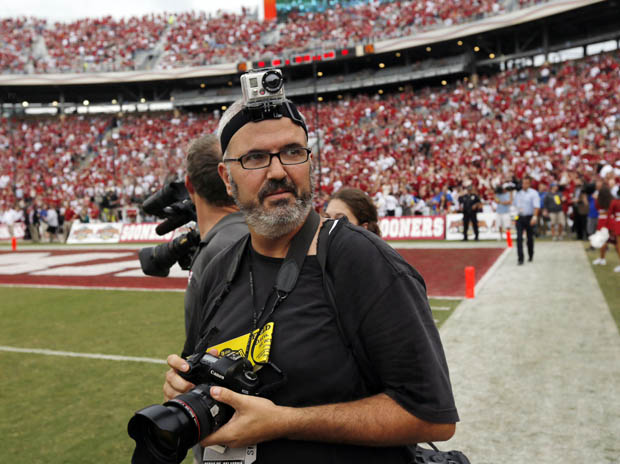 A couple of weeks ago, photographer Mike Simons of Tulsa World covered the annual college football game between the Oklahoma Sooners and the Texas Longhorns football. Known as the Red River Rivalry, the series considered one of the greatest rivalries in American sports. To capture what photographing the conclusion of such a big game is like, Simons decided to wear a GoPro camera on his head to record a first-person point of view.


He tells us,
Covering the Oklahoma v Texas game is like no other game I have ever covered. Played on a neutral site, the stadium is an equal mix of Oklahoma fans and Texas fans. The Cotton Bowl is divided at the 50 yard line. Texas fans on one side, Oklahoma on the other. A big play can happen, and it can be silent on one side of the field while the other side goes crazy. Adding to the controlled chaos is the fact that the game takes place in the middle of the Texas State Fair, with beer flowing.

I had seen other newspaper photographers shoot first person videos like this with GoPro cameras and I thought this game would be a perfect use for it. It is probably the most important football assignment we shoot every year, and it isn't about just shooting good action. Like all of our assignments, we need storytelling photos. So, getting on the field after the game and moving fast is critical. That 30 minute period might consistently be the hardest I work every year. 2 years ago I tripped over a monopod at a sprint, falling face first and landing on my 400mm. I decided it would be the perfect assignment to shoot a first person video of what it is like to do our job.

Watching it, I was truly shocked by how fast moments happen. When we look at the photos, the images we shoot last forever. The video shows that they last a fraction of a second. It showed me the importance and difference in both mediums.
Wouldn't it be awesome if more and more photographers started doing this?
---
Image credit: Photograph of Mike Simon by Nate Billings/The Oklahoman, photo of OU players by Mike Simons/Tulsa World