Photographs of Models of Photographs of Abandoned Buildings
Yesterday we featured an interesting example of digital photographs being reintroduced into the real world in another form (Google Street View photos as life-sized portraits), and now here's another one. For her project "Broken Houses", NYC-based photographer Ofra Lapid created realistic models of abandoned buildings using printed photos, and then photographed them on an infinite gray background.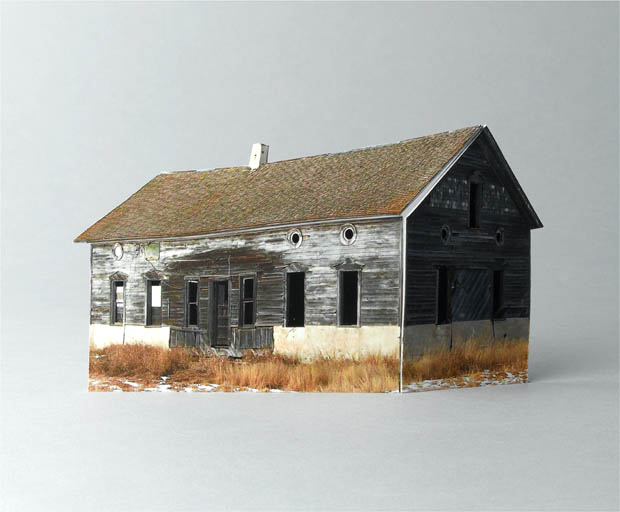 The project description states,
The series Broken houses is based on photographs of abandoned structures neglected by man and destroyed by the weather. I find these photos on the web while pursuing an amateur photographer from North Dakota who obsessively documents the decaying process of these houses. His photographs are used to create small scale models. Afterward, in the studio, the models are photographed again, omitted from their background and placed in gray.
You can find many more of these photographs over on Lapid's website.
Broken Houses by Ofra Lapid (via Doobybrain)
---
P.S. If you like the idea of creative art that combines photography and sculpture, you should also look into the work of Aleksandra Domanovic. She created stacks of paper 7,500 sheets high. The edges of the paper, printed on using an inject printer, combine to show various photographs:
---
Image credits: Photographs by Ofra Lapid and Aleksandra Domanovic/Tanya Leighton