Use a Keychain Stamp to Turn Anything into a Business Card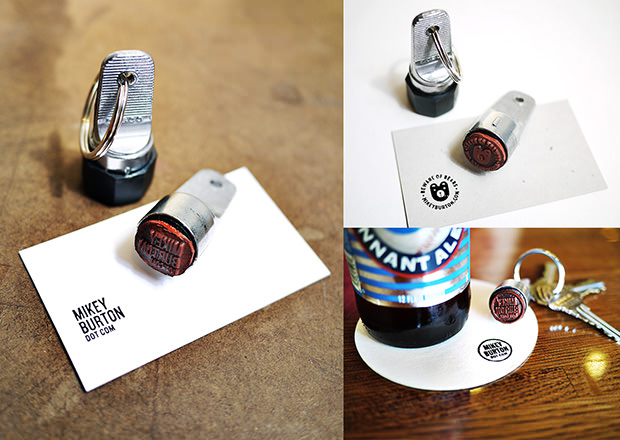 While taking part in a contest to design an unconventional business card, artist Mikey Burton came up with the idea of using a rubber stamp. He writes,
People love getting a cool business card, but might love it more if they see the process of how it was made. For my card, my mind went to the idea of rubber stamps, however, there is not a convenient way to carry around a rubber stamp with an ink pad without making a big mess. I discussed this idea with my good friend Keith Berger, proprietor of Cranky Pressman. He told me about the Inspector Stamp, a small, metal, self-inking stamp that comes on a keychain […]

The "classic" business card is often a ritual simply to impress the reciever. The idea with my new card is that it does away with the usual pretentiousness. With this stamp, you are able to print your condensed snippet of info onto any substrate—a beer mat, someone else's business card, a napkin, or even someone's hand. After all, people are more likely to lose a business card in a drunken stupor, but less likely to lose their hand.
Keeping one of these stamps on your keychain would give you a quick way of leaving your photography website URL with potential clients. You could also pair it with an instant camera for one-of-a-kind business cards! Cranky Pressman is selling them for $23 each.
Computer Arts Projects [Mikey Burton]