Sneak Peek at the Windows 8 Photos App
Recently, Microsoft has been showing off many of the new features we'll be seeing in the much-anticipated official release of Windows 8, and the most recent sneak peek Microsoft gave us was of the new Photos app. The app offers a native way for Windows users to organize, view and share all of their photos regardless of what they were taken with or where they're stored.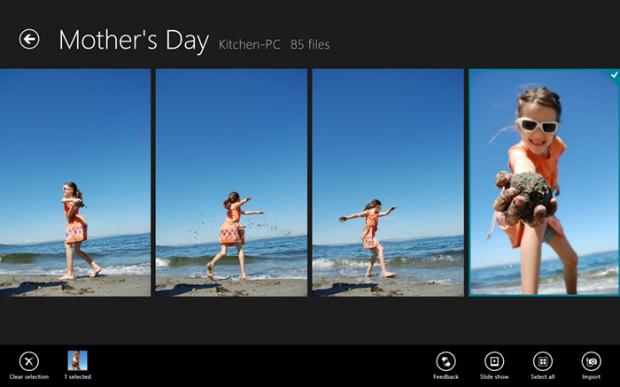 Of course, being a Microsoft product, you'll get the most out of it if you use a Windows phone and the company's cloud storage service SkyDrive, but if you do, then the app offers some pretty neat organization and sharing features that are all packaged in a simple and attractive UI.
As far as features go, the Photos app pulls all of your pics from all of the many sources where you may be keeping or displaying them (i.e. Flickr, Facebook, a storage device, or any computer with the SkyDrive desktop app installed). From there you can flip through them in one of the several views the app offers — ranging from orientation-aware thumbnails to full screen — or share them with people either via e-mail or SkyDrive link right from inside the app.
Here's a short video introduction by Photos app Program Manager Carmen Zlateff showing off some of the features:
Ultimately, the Photos app looks to be a better way for the average Windows user to organize and share all of the photos they have regardless of where they're keeping them. For more details on the app be sure to check out the whole blog post over on Microsoft's Building Windows 8 blog.
(via Engadget)